Hand-made phones, newspaper sellers on trams and healthy cigarettes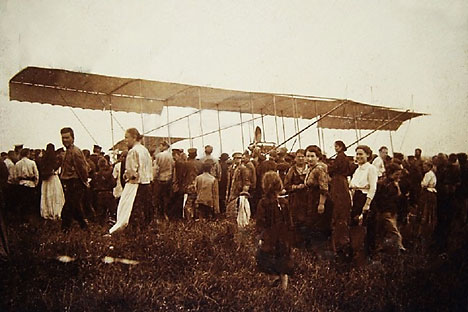 The Imperial Aviation Technical School has opened a theoretical course.
Fotosoyuz/Vostock-Photo
RBTH turns the clock back a century and shines a light on the now-forgotten stories being reported on the inside pages of Russian newspapers in 1915 and the events and processes occupying the minds of the Russians of the age. Travel back in time with us week by week for a sense of what life was like in the twilight days of the Russian Empire.
Craftsmen and telephones
The telephones for the needs of the post office and telegraph offices have mainly been acquired abroad. The question has now arisen about the possibility of producing telephones using local craftsmen. As an experiment, orders for telephones have been placed to the craftsmen of Sergiyev Posad. If these are successfully carried out, tests will be undertaken to produce equipment for the telegraph.
Moskovsky Listok, October 26, 1915
Film theaters and children
A very sad phenomenon can be observed at film theaters on holidays. Children, from two-year-olds to those of student age, sit around every family head and his wife and watch harrowing dramas.
What will the modern film repertoire give them? Due to the lack of scientific films, movie theaters fill their repertoires with maudlin dramas, though there is an occasional marvelous film, such as the most recent picture based on Turgenev – "The Song of Triumphant Love."
Chernozyom, October 27, 1915
Advertisement
Bogdanov's tobacco without nicotine causes no harm to health without compromising on taste.
Russkiye Vedomosti, October 28, 1915
Aviation course opens
The Imperial Aviation Technical School has opened a theoretical course.
An opening lecture was presented by one of the professors, who told the audience about the history of the teaching of aviation, described the work of pilots and noted the benevolent attitude of Grand Duke Alexander Mikhailovich to aviation.
Russkiye Vedomosti, October 30, 1915
Newspapers on the tram
The Petrograd Trade Department has suddenly received a new item of income. A civil engineer offered the city to give him the exclusive right to sell newspapers in the cars of the city's railways.
For receiving the concession, the entrepreneur is obliged to pay the city 20,000 rubles a year for a staff of 2,000.
In case of an increase, 2,000 rubles for every extra 50 people, additionally. The concession term is 10 years.
Gorodskoi Vestnik, November 1, 1915
All rights reserved by Rossiyskaya Gazeta.