What are Russians afraid of?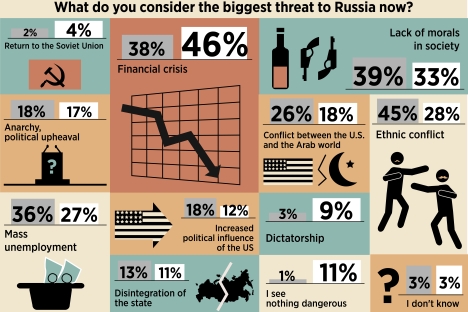 Russians believe an economic crisis is the main threat to their country, according to a recent poll conducted by VTsIOM, but the percentage of those who see no threats to Russia at all has risen substantially (from 1 percent to 11 percent). "This is progress, but 11 percent is still not a lot by any standard," said VTsIOM CEO Valery Fedorov. "Despite a decade of economic growth, people remain fearful of both economic and political turmoil." Fedorov believes this is because Russians have suffered from several economic crises over the past 20 years, remember them vividly, and try to play it safe. Fedorov added that easy access to information plays a role in creating fear in society. "Information from all over the world gets into the media and social networks instantly. Whereas in the past it was just images on a TV screen, developments are now taking place closer to home in places such as Egypt, where many Russians have actually been," Fedorov said. The poll was conducted on January 12–13 2013 out of a pool made up of 1,600 respondents from 138 communities in 46 Russian regions.
All rights reserved by Rossiyskaya Gazeta.