Crimea's energy resources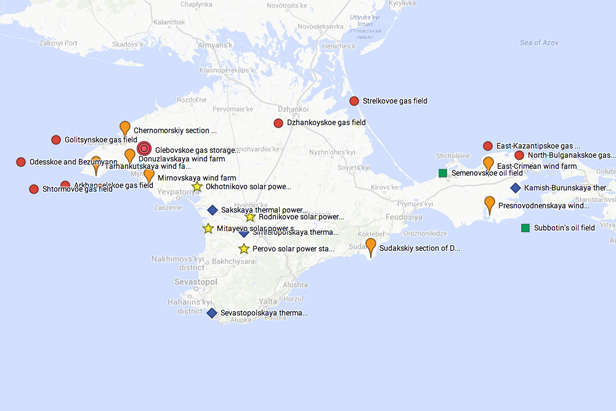 Here is a map of all of Crimea's energy resources, including gas and oil fields, solar power stations, wind farms, thermal power stations and gas storage facilities.
Souce: kommersant.ru
Electric power
Crimea needs 1,200 megawatts of power. It is currently only 20% self-sufficient in electricity. However, that does not include alternative energy sources. In 2013, Crimea saw the appearance of several large solar power plants, including the largest in the world, Perovo. In addition, operating on the peninsula are several small wind farms. Collectively (solar and wind power stations), they are capable of making Crimea 40% self-sufficient.
Oil and gas
Only Chernomorneftegaz produces oil and gas in Crimea and the Black and Azov seas. At the beginning of this year, it had on its balance sheet 17 fields (11 gas, 4 gas-condensate, 2 oil). Their total reserves were 58.56 billion cubic meters of gas, 1231 tons of condensate, and 2530 tons of oil. Nine gas fields and one oil (Semenovskoe) are under development. The second oil field — Subbotin — has yet to be developed.
Related articles:
Crimea to stop being dependent on Ukrainian electricity in 45 days
Are plans for Crimean oil and gas sale in Russia's interest?
Sanctions against Russia will boost oil prices
Crimea could face energy shortage, price hikes
All rights reserved by Rossiyskaya Gazeta.