Russian revenues from raw material sales fall to 34 percent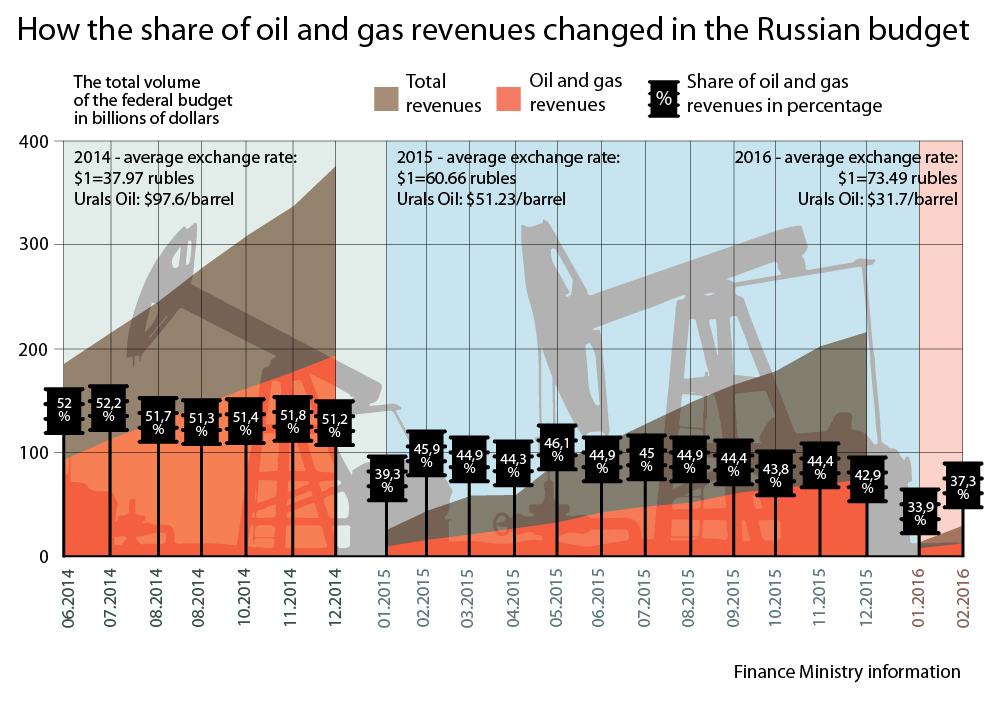 Russia is continuing to receive insufficient oil and gas revenues. By the end of the first quarter of 2016 their share of the federal budget declined to 34 percent. Oil and gas earnings are calculated after the tax on mineral extraction and export duties on oil, gas and the products made from them."Thirty-four percent is significantly less than the indicators Russia has seen in the last 10 years," says Andrei Chernyavsky, a leading expert at the Center of Development Institute at the Higher School of Economics.It remains too early to say if the Russian economy has begun to free itself from its dependence on raw materials. The main reason for the current fall in the level of oil and gas revenues is the reduction of oil prices. Oil and gas revenues must make up 10 percent of the state budget in order for the country to overcome its dependence on raw materials.Top economist: Russia must forget it has oil resources in the short term>>>
Alena Repkina
Amount is less than Russia has seen over the last decade.
Russia is continuing to receive insufficient oil and gas revenues. By the end of the first quarter of 2016 their share of the federal budget declined to 34 percent. Oil and gas earnings are calculated after the tax on mineral extraction and export duties on oil, gas and the products made from them.
"Thirty-four percent is significantly less than the indicators Russia has seen in the last 10 years," says Andrei Chernyavsky, a leading expert at the Center of Development Institute at the Higher School of Economics.
It remains too early to say if the Russian economy has begun to free itself from its dependence on raw materials. The main reason for the current fall in the level of oil and gas revenues is the reduction of oil prices. Oil and gas revenues must make up 10 percent of the state budget in order for the country to overcome its dependence on raw materials.
All rights reserved by Rossiyskaya Gazeta.