China, France, and Germany complete the list of the world's top five weapons sellers. Middle Eastern and Southeast Asian nations are major consumers of major weapons from the developed world.
Business is booming for weapons manufacturers. In the period 2012-2016, conventional arms exports increased by 8.4 percent compared to 2007-2011, claims a recent report by the Stockholm International Peace Research Institute (SIPRI).
The term, "weapons," used in this report is defined as large-scale equipment and complex systems, and doesn't include the sale of small arms, such as automatic rifles and other basic hand-held military equipment.
The U.S. and Russia still control the lion's share of international weapons sales, with market shares of 33 and 23 percent, respectively. China, which in 2012 increased its share of weapons exports from 3.8 to 6.2 percent, is in third place. France finished fourth with 6 percent, and Germany fifth with 5.6 percent.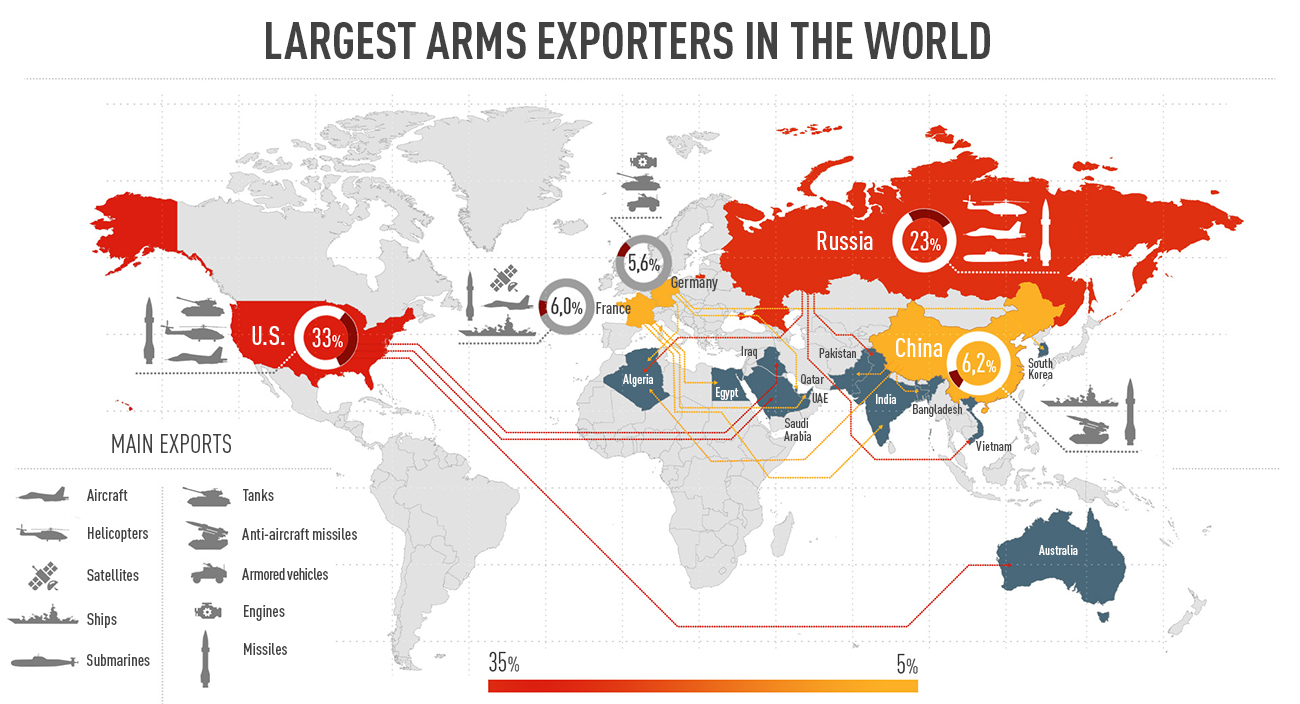 Kirill Polukhin / RBTH
Largest arms contracts
According to SIPRI's website, American weapons manufacturers sell to more than 100 countries, while Russia sells to 50 countries. Middle Eastern countries - Saudi Arabia, Israel, UAE and Turkey – are the main markets for American weapons.
U.S. weapons exports to the region are led by:
- AH-64E Apache and H-60M Blackhawk attack helicopters, as well as the CH-47F Chinook troop transport helicopters;
- F-35, F-18, F-15S fighters, and modified F-16s;
- M1A1 tanks;
- TOW 2A, and other missiles.
Russia's main defense clients are in the Asia-Pacific region. About 70 percent of Russian weapons exports go to India, China, Vietnam and Algeria.
Russia's weapons exports are led by:
- Su-30, Mig-29 and Su-35 multi-purpose fighters;
- Yak-130 instruction-combat planes;
- Ka-52 and Mi-28 combat helicopters and Mi-17 transport helicopters;
- T-90 modified tanks;
- Anti-aircraft, artillery and coastal anti-ship systems;
- Project 636 submarines;
- Ammunition and light weapons.
China's weapons exports are focused on Pakistan, Bangladesh and Burma. North African countries, such as Algeria, are also important markets.
China's leading items are:
- LPC-1 corvettes, C-28A frigates;
- MBT-2000 tanks;
- JF-17 Thunder/FC-1 fighters;
- Missile and artillery systems.
SIPRI analysts say that France's share on the world arms market is growing thanks to contracts signed in the past five years. Paris's main clients are Egypt, UAE and India. Its most successful military hardware include:
- Mirage and Rafal fighters with accompanying weapons;
- Mistral helicopter carriers;
- Helios-2 satellite.
While German arms exports continue to grow in sales totals, the country's market share has decreased by 36 percent. The German government is highly sensitive to public opinion on the issue of international arms sales and hence, it's less likely to grant export licenses. Germany's leading clients are Algeria, South Korea and Qatar. Germany sells mostly:
- Tpz-1 Fuchs armored vehicles;
- Leopard-2A6 tanks;
- Diesel engines;
- Self-propelled artillery.
If using any of Russia Beyond's content, partly or in full, always provide an active hyperlink to the original material.