The benefits of being a Russian mother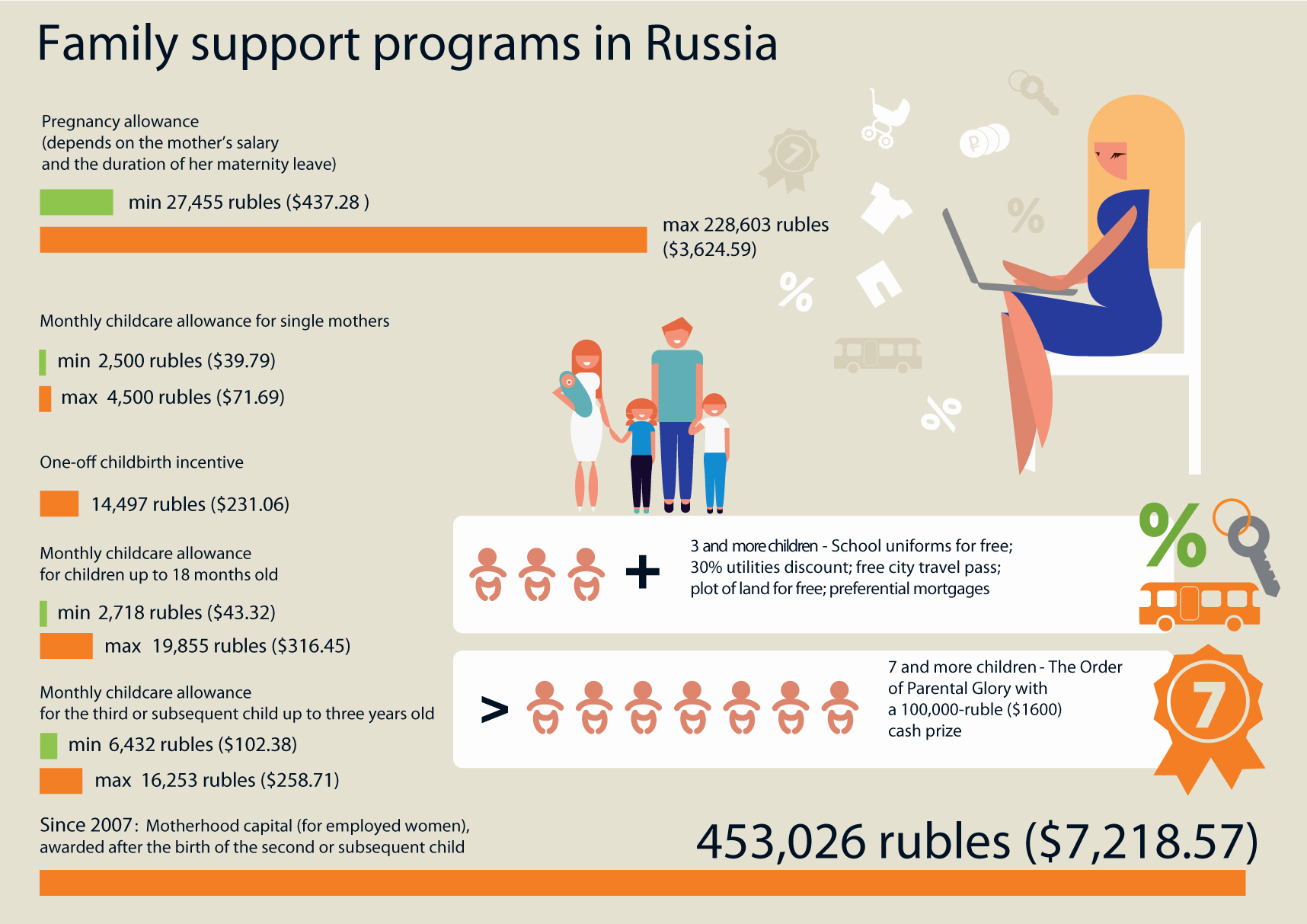 Social policy programs (including aid and social security benefits) make up the lion's share of Russia's budget expenditures. For instance, in 2014, about 31 percent of the spending from both federal and regional budgets (11.9 percent of the country's GDP) went on social policy – excluding healthcare, education, sports and culture programs, which are considered separate budget items.Social security still represents the bulk of social policy expenditures — in 2014, it accounted for 73 percent of the money that went toward social policy. Beyond that, the costs of family and child support programs have been on the rise since 2010, although this area remains comparatively small, never exceeding 5 percent of total expenditures. That said, of all areas of spending, family and child support programs include the highest number of allowances and incentives.The family support programs, designed to improve the demographic situation in the country, have already proven efficient. In 2014, the birth rate in the 66 regions that awarded families with three or more children with allowances increased by 2.4 percent.  Besides federal aid (described in the infographic), some of the regional governments have also introduced their own incentives.  For instance, in the Moscow Region, mothers that give birth to triplets receive an aid package of 150,000 rubles (around $2,400).The highest one-off payments to families adopting orphans are awarded in the Sakhalin Region in the Russian Far East. Since Jan. 1, 2014, they receive 617,000 rubles ($9,870) for each adopted child and a million rubles (around $16,000) if adopting a child with disabilities.In the Irkutsk Region, families adopting one or more children receive a one-off payment of 100,000 rubles ($1,600). In most other regions, the authorities stick to the sums stipulated by federal law – 13,741 rubles ($219) for adopting a child, and 105,000 rubles ($1,680) for adopting a child with disabilities.The most substantial one-off incentive, a payment issued to women on the birth of their second and subsequent children, was introduced in 2007. Named the "motherhood capital," its rate is changed annually to adjust for inflation. However, there are several restrictions in place to prevent the abuse of the funds. Namely, the incentive is not provided in cash, but rather as a certificate that can only be used for specific purposes, such as the improvement of living conditions of the family (including a partial repayment of the mortgage, or repairing and expanding one's house), the education of the child or social security benefits for the mother.  Read more: The contemporary Russian family: Traditional in word, slippery in deed>>>
Alena Repkina
Almost a third of Russia's budget supports social policy programs, with most of the various allowances and incentives designed to support families
Social policy programs (including aid and social security benefits) make up the lion's share of Russia's budget expenditures. For instance, in 2014, about 31 percent of the spending from both federal and regional budgets (11.9 percent of the country's GDP) went on social policy – excluding healthcare, education, sports and culture programs, which are considered separate budget items.
Social security still represents the bulk of social policy expenditures — in 2014, it accounted for 73 percent of the money that went toward social policy. Beyond that, the costs of family and child support programs have been on the rise since 2010, although this area remains comparatively small, never exceeding 5 percent of total expenditures. That said, of all areas of spending, family and child support programs include the highest number of allowances and incentives.
The family support programs, designed to improve the demographic situation in the country, have already proven efficient. In 2014, the birth rate in the 66 regions that awarded families with three or more children with allowances increased by 2.4 percent.
Besides federal aid (described in the infographic), some of the regional governments have also introduced their own incentives.
For instance, in the Moscow Region, mothers that give birth to triplets receive an aid package of 150,000 rubles (around $2,400).
The highest one-off payments to families adopting orphans are awarded in the Sakhalin Region in the Russian Far East. Since Jan. 1, 2014, they receive 617,000 rubles ($9,870) for each adopted child and a million rubles (around $16,000) if adopting a child with disabilities.
In the Irkutsk Region, families adopting one or more children receive a one-off payment of 100,000 rubles ($1,600). In most other regions, the authorities stick to the sums stipulated by federal law – 13,741 rubles ($219) for adopting a child, and 105,000 rubles ($1,680) for adopting a child with disabilities.
The most substantial one-off incentive, a payment issued to women on the birth of their second and subsequent children, was introduced in 2007. Named the "motherhood capital," its rate is changed annually to adjust for inflation. However, there are several restrictions in place to prevent the abuse of the funds. Namely, the incentive is not provided in cash, but rather as a certificate that can only be used for specific purposes, such as the improvement of living conditions of the family (including a partial repayment of the mortgage, or repairing and expanding one's house), the education of the child or social security benefits for the mother.
Read more: The contemporary Russian family: Traditional in word, slippery in deed>>>
All rights reserved by Rossiyskaya Gazeta.