Number of the week: Aeroflot picks up slack after Transaero goes bust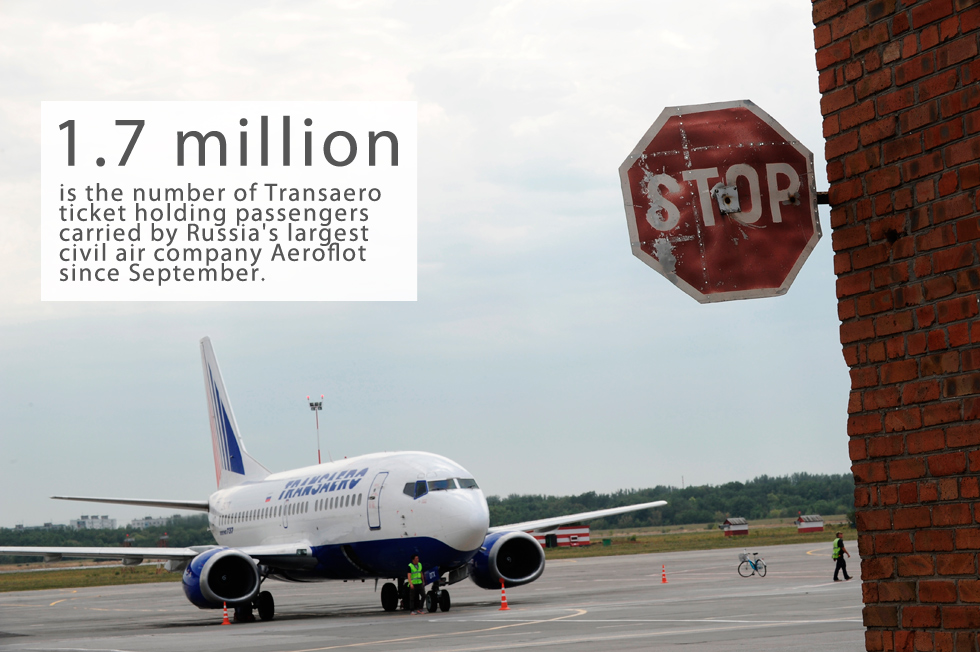 More than 1.7 million passengers holding tickets for bankrupt airline Transaero have taken Aeroflot flights since the beginning of September. The ariline must make room for a further 240,000 by December 15 when all Transaero issued tickets will be cancelled, Russian transport minister Maxim Sokolov says.Russia's second-largest airline Transaero, purchased by Aeroflot in early September for the nominal sum of one ruble, is on the brink of folding after government officials appear to have made a decision to file for bankruptcy for the debt-laden company.Transaero's overall debt is estimated at 260 billion rubles ($3.9 billion), of which 80 billion rubles ($1.2 billion) is owed to banks. Aeroflot is currently carrying out the company's operations.Photo by Sergei Pivovarov / RIA Novosti
Anna Sorokina
More than a million Transaero passengers switch to Aeroflot since September
More than 1.7 million passengers holding tickets for bankrupt airline Transaero have taken Aeroflot flights since the beginning of September. The ariline must make room for a further 240,000 by December 15 when all Transaero issued tickets will be cancelled, Russian transport minister Maxim Sokolov says.
Russia's second-largest airline Transaero, purchased by Aeroflot in early September for the nominal sum of one ruble, is on the brink of folding after government officials appear to have made a decision to file for bankruptcy for the debt-laden company.
Transaero's overall debt is estimated at 260 billion rubles ($3.9 billion), of which 80 billion rubles ($1.2 billion) is owed to banks. Aeroflot is currently carrying out the company's operations.
Photo by Sergei Pivovarov / RIA Novosti
All rights reserved by Rossiyskaya Gazeta.