Number of the week: Moscow's arms wide open to embrace the world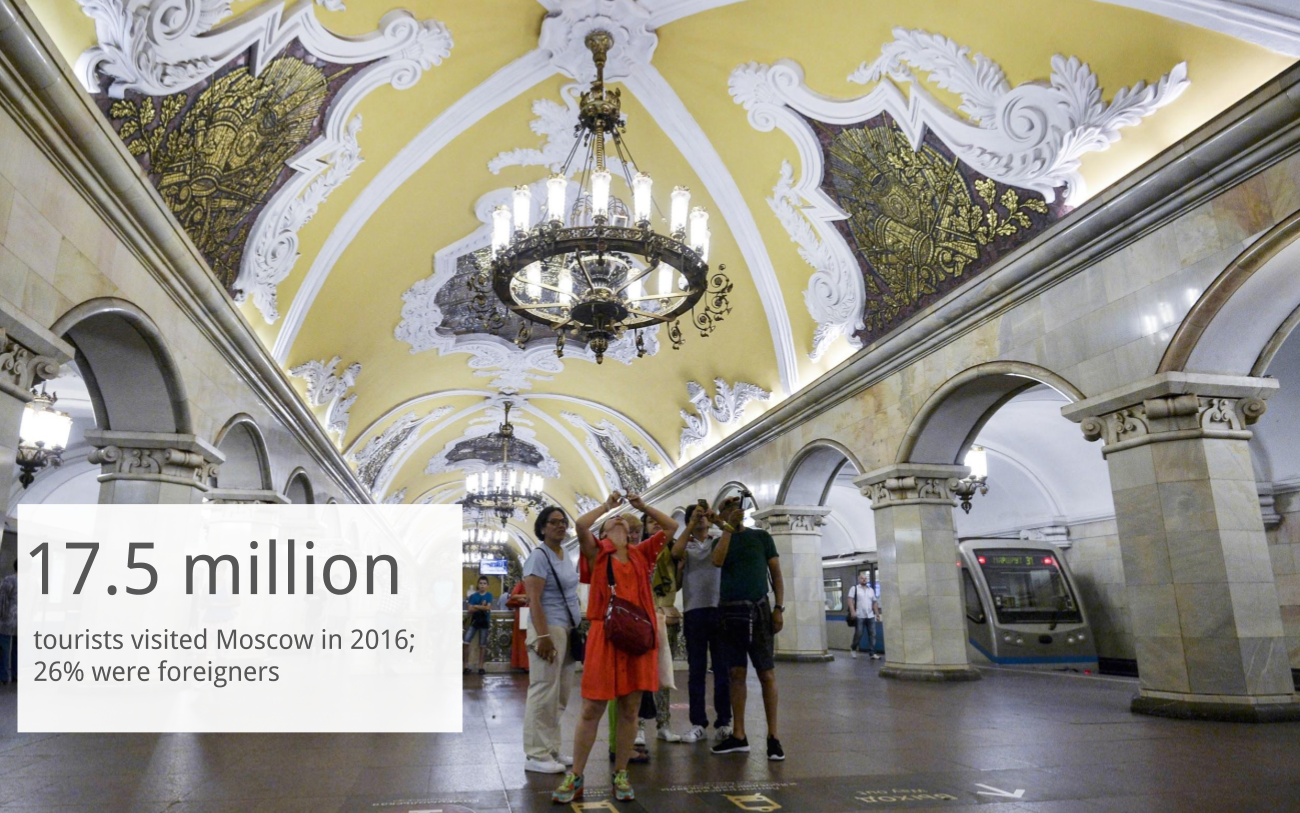 The number of tourists to Moscow totaled 17.5 million in 2016, said Konstantin Goryainov, deputy head of the Moscow city government's department for sports and tourism, reported TASS on Jan. 31. "I believe this year we'll see more than 18 million," he added.Russians accounted for 74 percent of the total number of Moscow tourists, while the share of foreigners was a modest 26 percent. The later mostly came from China, Germany, Turkey, Israel, France, Italy, U.S., UK and Spain.According to Euromonitor International's Top 100 City Destinations 2017, Hong Kong, Bangkok and London are the most visited cities in the world with 26.7 million, 18.7 million and 18.5 million tourists a year, respectively. Russia's capital finished in 42th place. Read more: Where to find the real Russian food in Moscow
Yevgeny Odinokov / RIA Novosti
As geo-political tensions ease, Moscow hopes for more visitors
The number of tourists to Moscow totaled 17.5 million in 2016, said Konstantin Goryainov, deputy head of the Moscow city government's department for sports and tourism, reported TASS on Jan. 31. "I believe this year we'll see more than 18 million," he added.
Russians accounted for 74 percent of the total number of Moscow tourists, while the share of foreigners was a modest 26 percent. The later mostly came from China, Germany, Turkey, Israel, France, Italy, U.S., UK and Spain.
According to Euromonitor International's Top 100 City Destinations 2017, Hong Kong, Bangkok and London are the most visited cities in the world with 26.7 million, 18.7 million and 18.5 million tourists a year, respectively. Russia's capital finished in 42th place.
If using any of Russia Beyond's content, partly or in full, always provide an active hyperlink to the original material.
Get the week's best stories straight to your inbox