Fyodor Konyukhov to circle Earth in balloon in new record attempt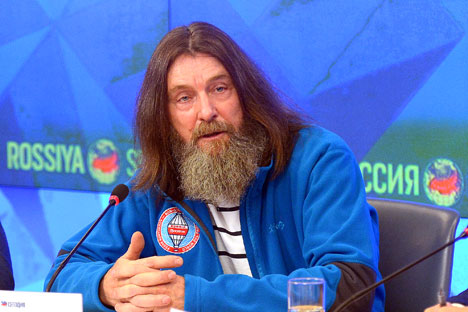 Traveler Fyodor Konyukhov at a news conference on his planned solo nonstop around the world flight aboard the Morton hot air balloon in 2016.
Vladimir Trefilov / RIA Novosti
Russian traveler announces attempt to break time set by Steve Fossett in 2002.
Russian traveler Fyodor Konyukhov, who has conquered both the North and South poles and the seven highest peaks in the world, has announced he plans to break the record set by American adventurer Steve Fossett, who was the first person to fly solo nonstop around the world in a balloon.
"I have fear of every trip, I have not lost that feeling, and that's good," Konyukhov admitted at a press conference in Moscow.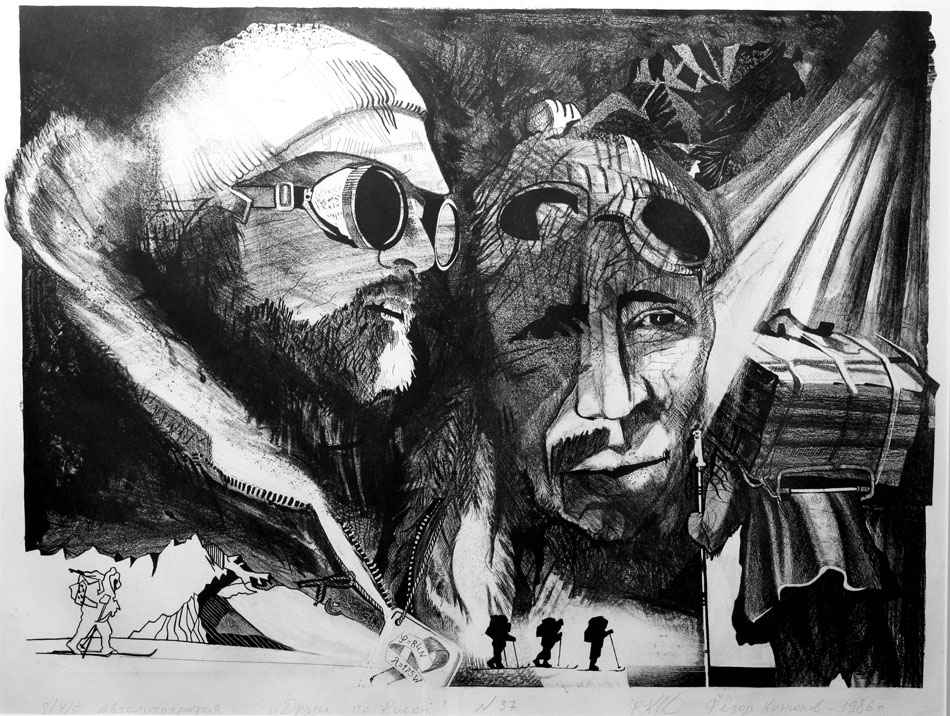 "It helps me that the training takes several years, and it helps me to relax a little."
The traveler has nurtured the idea of a balloon flight for 20 years, inspired by two successful round-the-world flights – by Bertrand Piccard and Brian Jones in 1999 and by Fossett in 2002.
Konyukhov hopes to make the flight at the first attempt - something his predecessors failed to do. His solo flight on a balloon made by the British company Cameron Balloons is scheduled to start from the west coast of Australia in June 2016.
"Nobody in the world makes better balloons that the Brits, so our balloon is being made by Cameron Balloons, and it will fly on Russian helium," said Konyukhov.
According to preliminary calculations, the flight will last between 13 and 15 days at an altitude of 36,000 feet with a maximum speed of 186 mph (300 km/h).
The 64-year-old traveler will fly over the Australian desert, the Tasman Sea and New Zealand, the Pacific Ocean, Easter Island, the south of Chile and Argentina, the Atlantic Ocean and South Africa, the Indian Ocean. The total distance is 20,506 miles, or 33,000 km.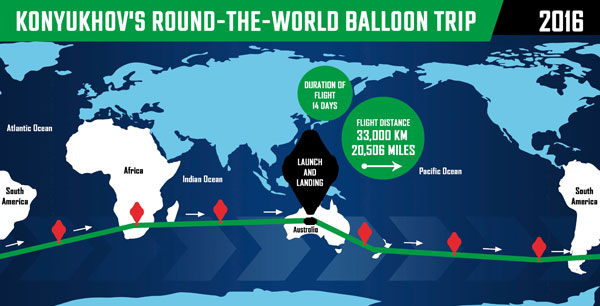 "I'll have to sleep only about four hours a day in a special capsule, [and] wear a lightweight space suit," said Konyukhov.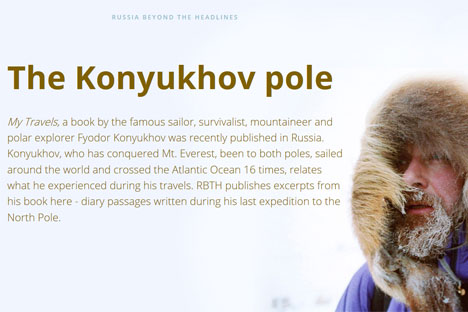 "I'll take sublimated food products weighing about 3 kg and two 50-liter cans of drinking water."
The balloon will be equipped with the GLONASS navigation system, solar panels and video cameras, which should provide live coverage of the flight. The two-tier structure of the balloon, combining the use of helium and solar energy, will allow for the long flight.
One of the flight control centers, according to organizers, will be the office of Virgin Australia, owned by Richard Branson, the renowned British businessman and balloonist and Konyukhov's friend.
All rights reserved by Rossiyskaya Gazeta.