Romanov family photos from the British Archives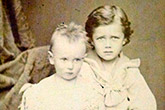 Historically, Russia and Great Britain have always been closely tied to one another. In our photo gallery, we would like to present you with photographs of the Romanovs from the British Archives. This is a unique opportunity see Alexander III in his youth and what his son Nikolai looked like before he meet his wife, Alexandra Fyodorovna.
All rights reserved by Rossiyskaya Gazeta.