Alexander Deineka, the "Mayakovsky of painting" (PICS)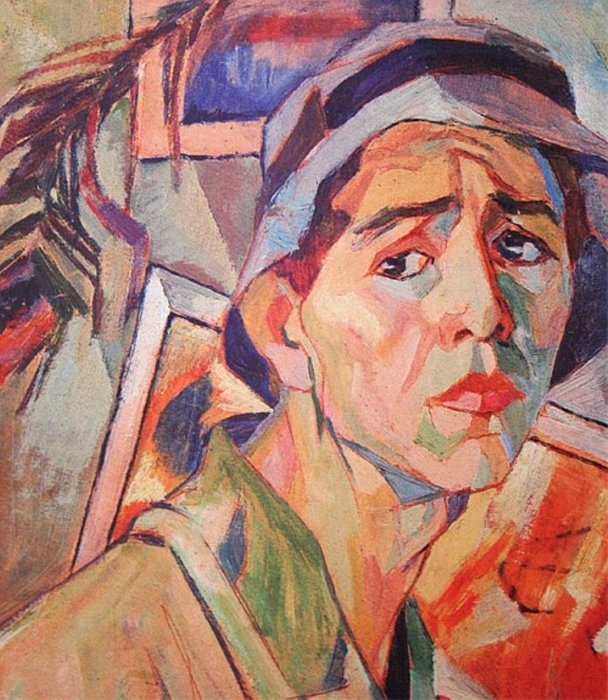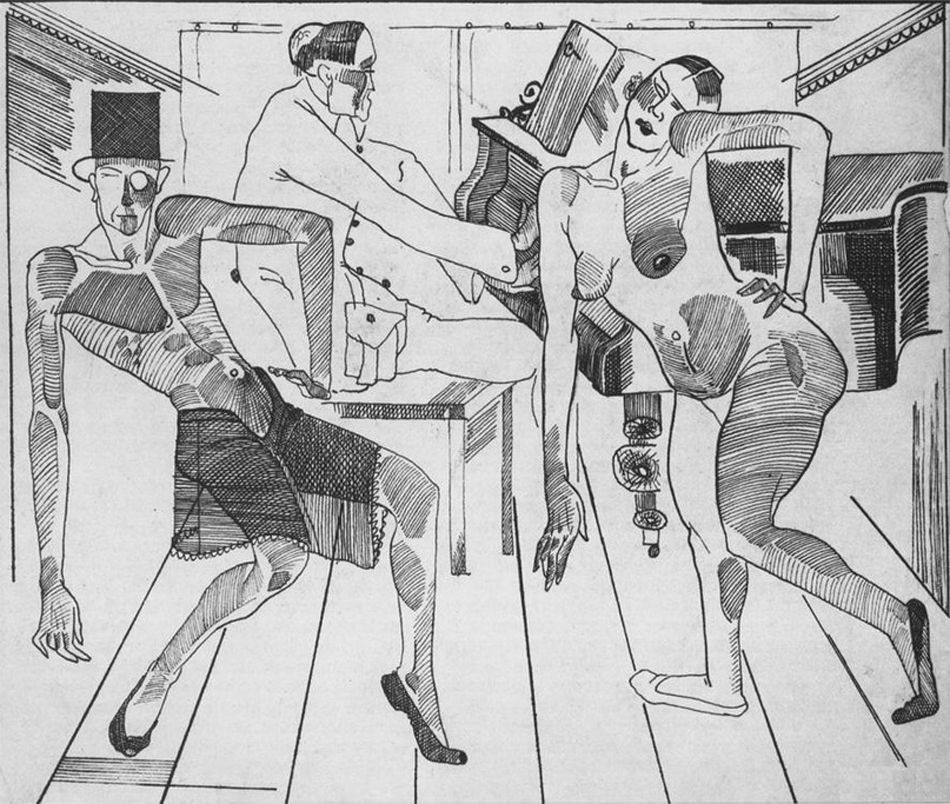 An important role in the formation of Deineka's artistic manner was played by the European masters. For example, the famous painting by Matisse is clearly discernible in this engraving. Having graduated, he and his comrades founded OST, a society of artists and easel painters, and decided to intermix the latest European trends (in particular, expressionism) with Soviet themes, proclaiming a "focus on young artists" // Variety-show dance, 1923
Alexander Deineka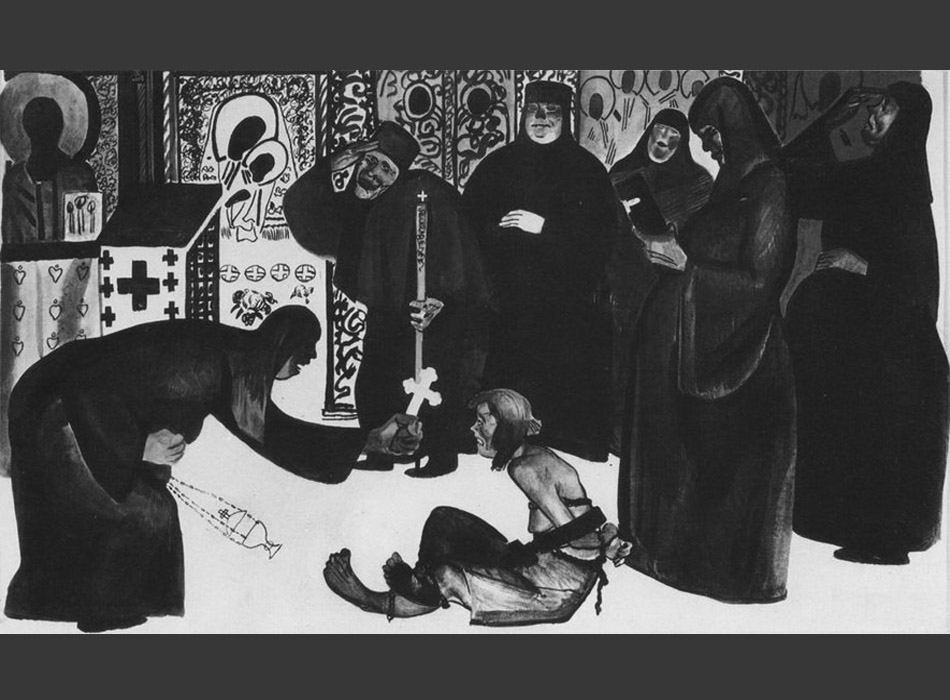 Next began his period of collaboration with magazines. Most of his caricatures ridiculed the class enemies of the proletariat: kulaks, interventionists, merchants, the petty bourgeois, and well-mannered ladies pining for pre-revolutionary times, and were also dedicated to the atheistic education of the masses and the struggle against religious prejudices. Deineka's priests and quacks were very apt. // Miracle worker, 1925
Alexander Deineka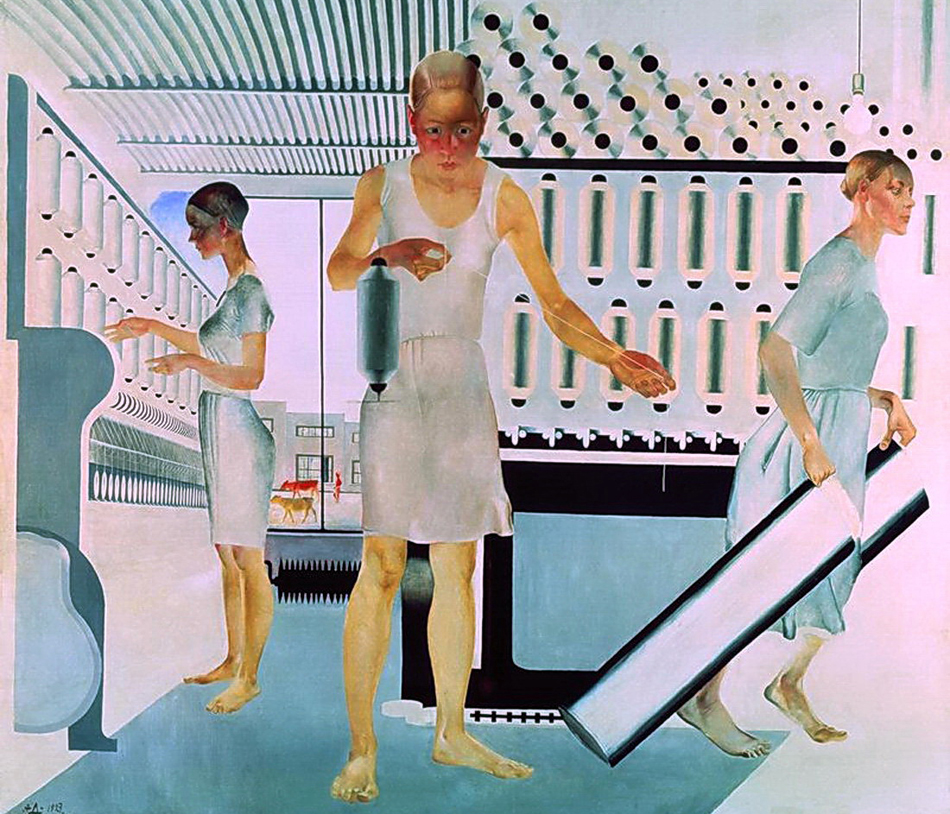 But Deineka's artistic world was also home to positive role models: miners, construction workers, proletarian women, athletes. In general, he paid a lot of attention to extolling everyday Soviet realities: large-scale production, industrialization, modern city life, physical culture and national sport //  Textile workers, 1927
Alexander Deineka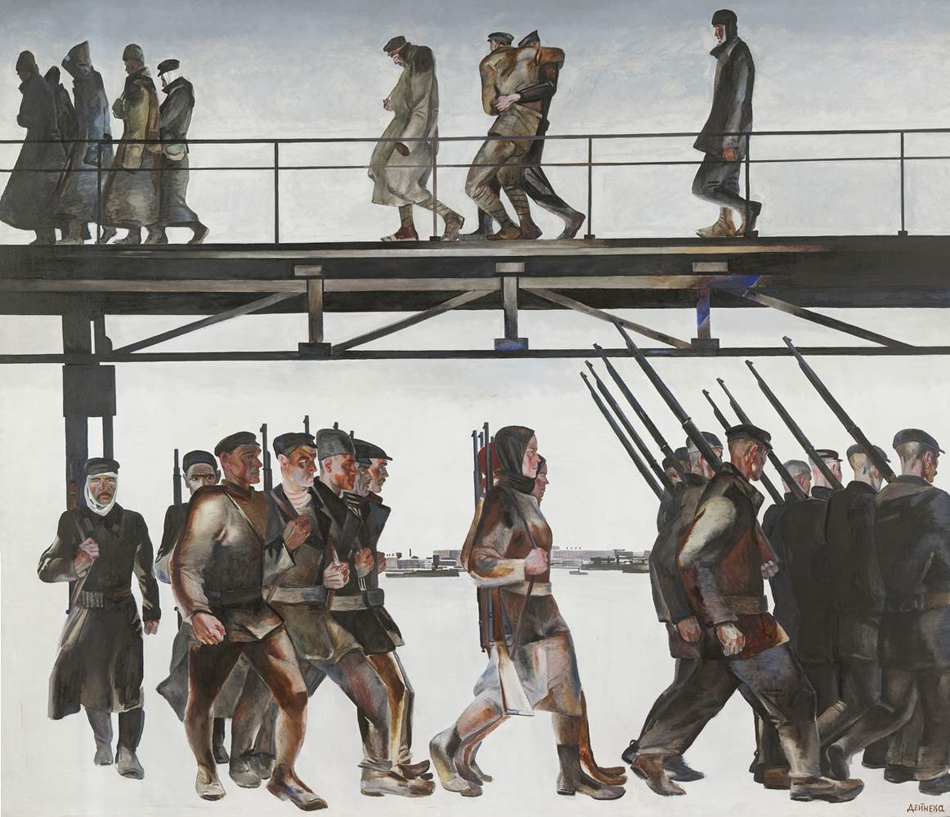 An extremely graphic, rhythmic, "sniper" quality characterizes the early Deineka. The artist used the trends of the epoch itself to justify himself, believing the time to be "more graphic than picturesque." In 1928, he created one of his major works, a pathos-imbued historical-revolutionary picture which he later described as his "favorite piece" — the canvas "The Defense of Petrograd" depicting ranks of Petrograd workers on their way to fight Yudenich. // The Defense of Petrograd, 1928
Alexander Deineka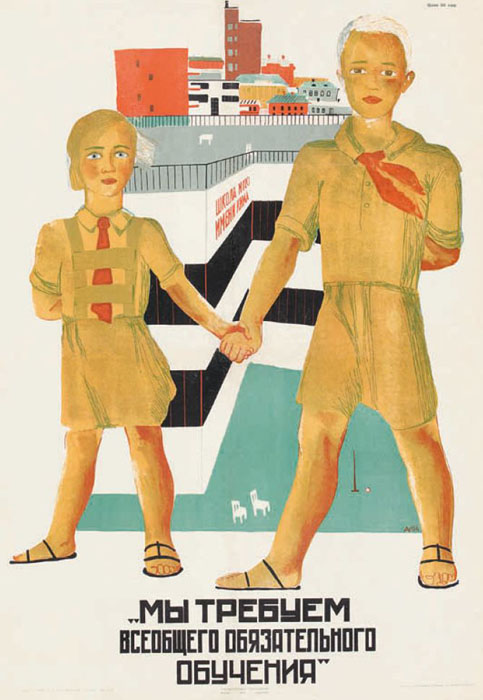 Deineka gradually established himself in all the best Soviet magazines. His posters are particularly striking. // We demand universal compulsory education!, 1930
Alexander Deineka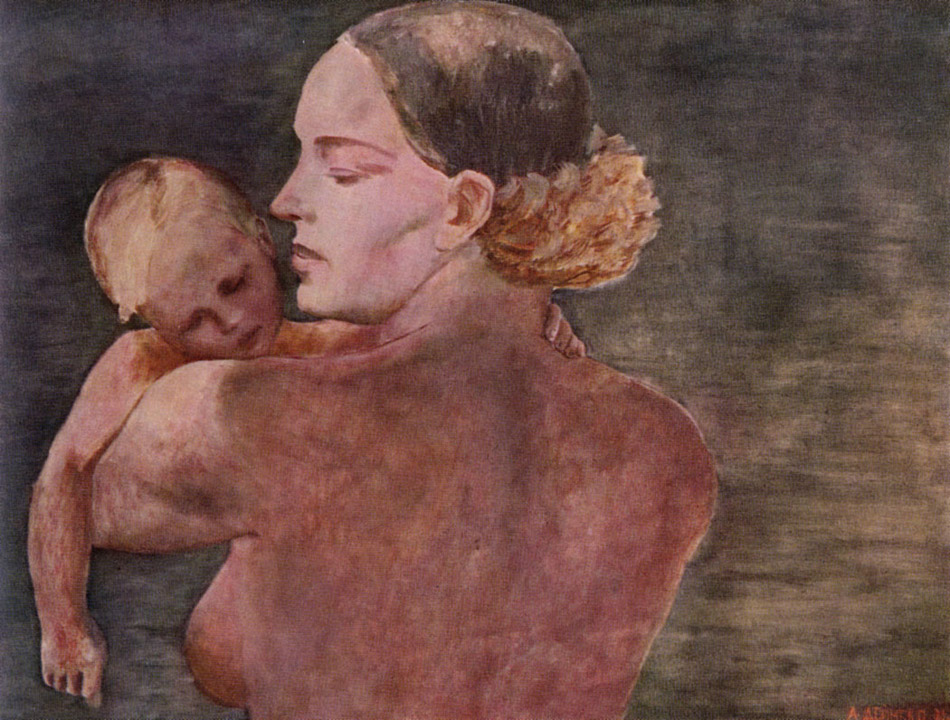 1932 can be considered the start of a new stage in the development of his art. "Mother," one of his most important paintings, dates to this year. It was described as a Soviet version of the Madonna. The coloration of his works became brighter and softer, and his portraits and landscapes were filled with both realism and romanticism, in which many female images appeared. // Mother, 1932
Alexander Deineka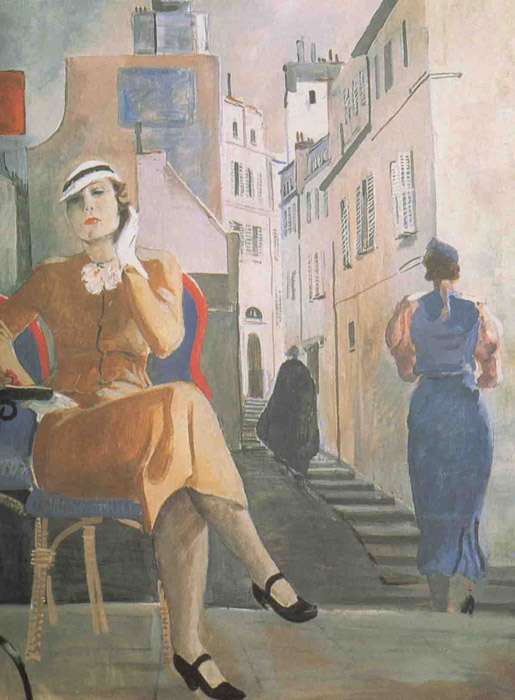 In 1935, the artist visited the United States, France, and Italy. The fruit of this journey was a series of urban landscapes and portraits // Parisienne, 1935
Alexander Deineka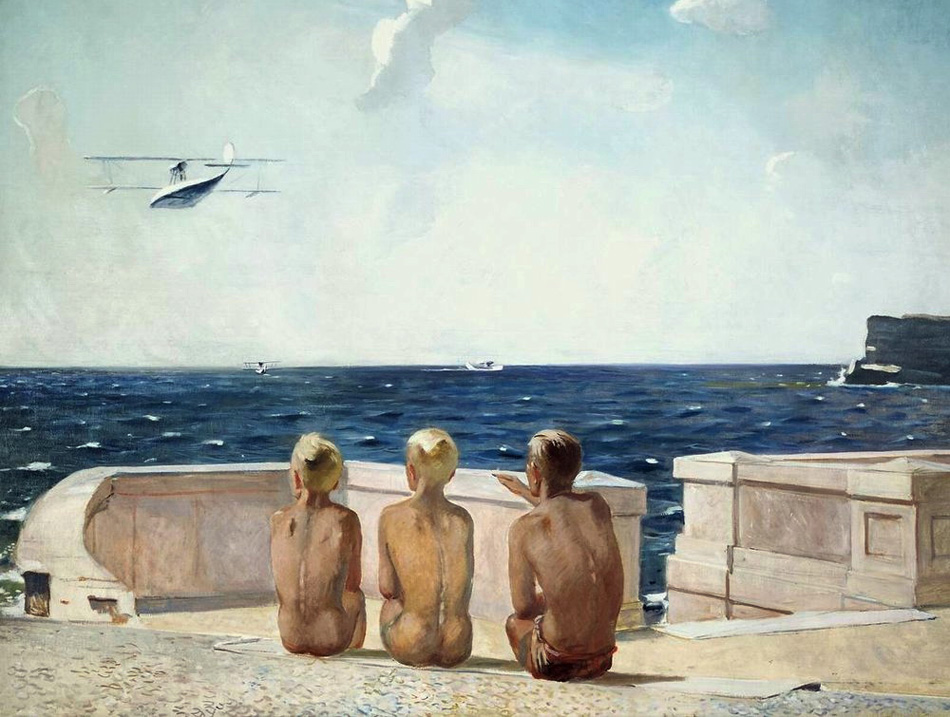 In the 1930s, the artist painted pictures on the theme of aviation. A true masterpiece in this series is "Future pilots" (1937), one of Deineka's most romantic paintings, which depicts three adolescents sitting with their back to the viewer, dreamily gazing after a plane flying away.
Alexander Deineka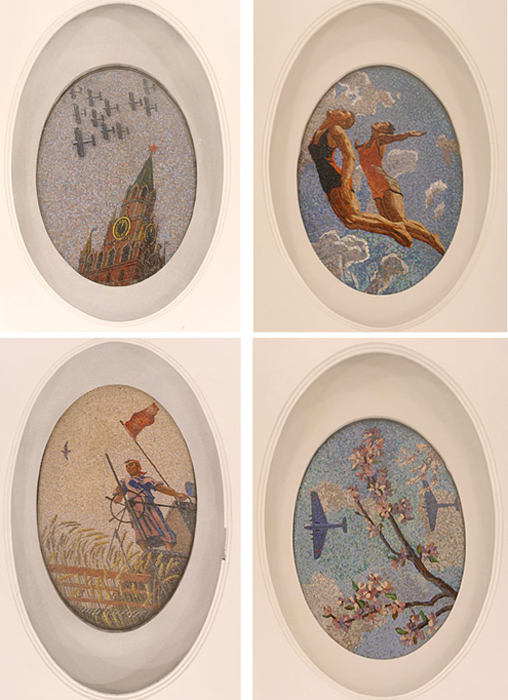 Later, Deineka took up mural painting. In winter 1938, he commenced work on the mosaic cycle "Day and night under the Soviet sky" (portraying a 24-hour period in the life of the Soviet people) inside the future Moscow Metro station Mayakovskaya. The mosaic panels still adorn the station to this day. The plafonds at Novokuznetskaya station were likewise decorated by Deineka.
Alexander Deineka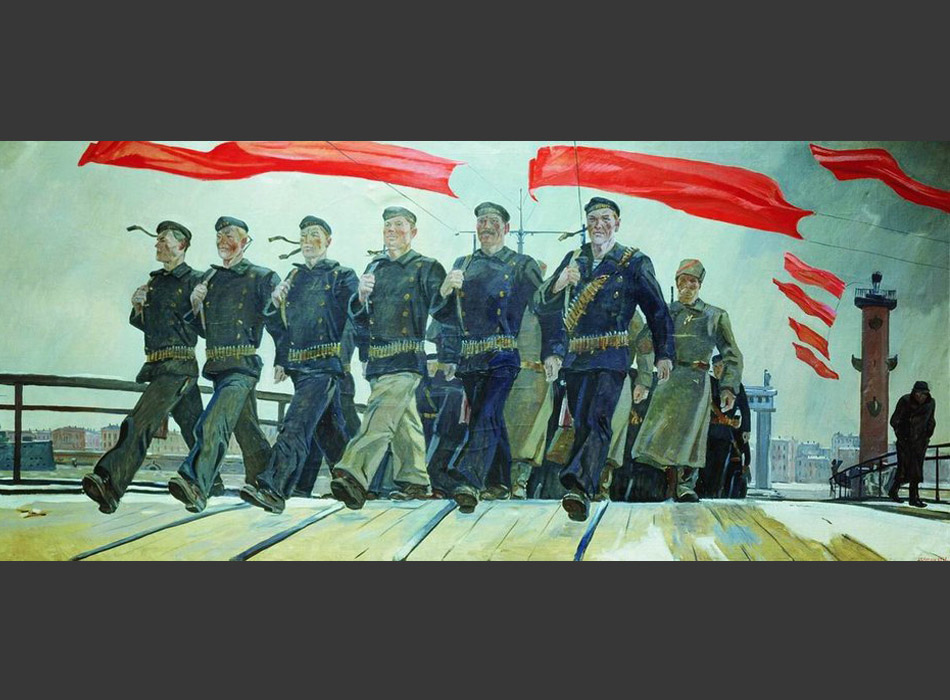 While still a student, Deineka got acquainted with one of the iconic characters of Soviet art — the poet Mayakovsky. Deineka could even be described figuratively as the "Mayakovsky of painting." Both were inspired by faith in the revolution, love for the proletariat, and admiration for man's physical health. One of the Deinika's finest pictures took its name from a famous poem by Mayakovsky. // "Left march", 1941
Alexander Deineka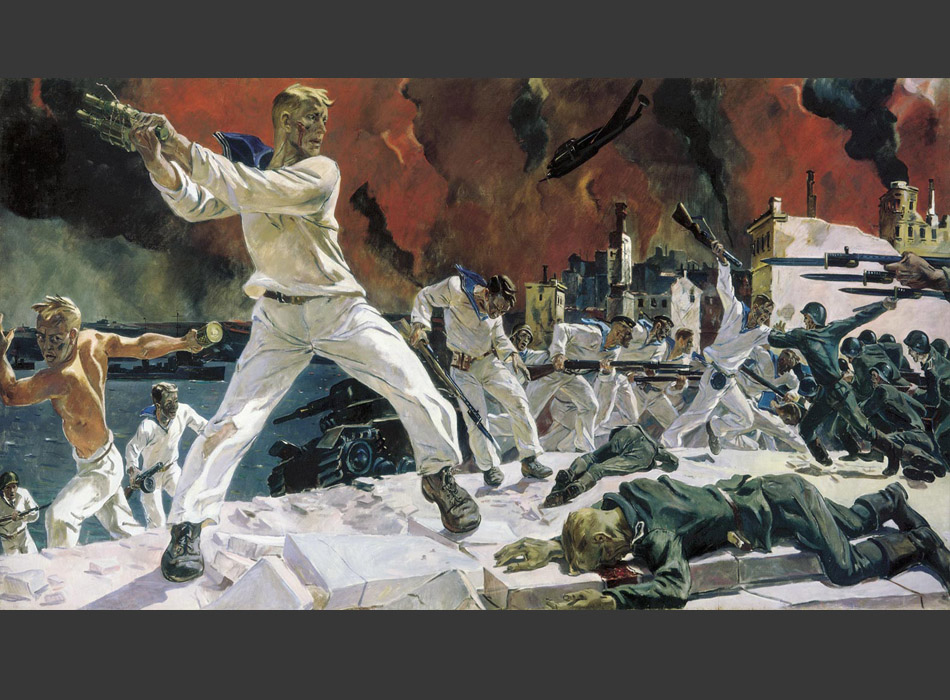 On the outset of the WWII, peaceful themes in art, as in life, receded into the background. The artist traveled to Sevastopol. Familiar places were now clothed in a new dramatic and sinister milieu. // The Defense of Sevastopol, 1942
Alexander Deineka
All rights reserved by Rossiyskaya Gazeta.