Arkadiy Shaikhet, creating the image of the Soviet 1920s-30s
Photographs by legendary master Arkadiy Shaikhet, who was the founder of soviet photoreport.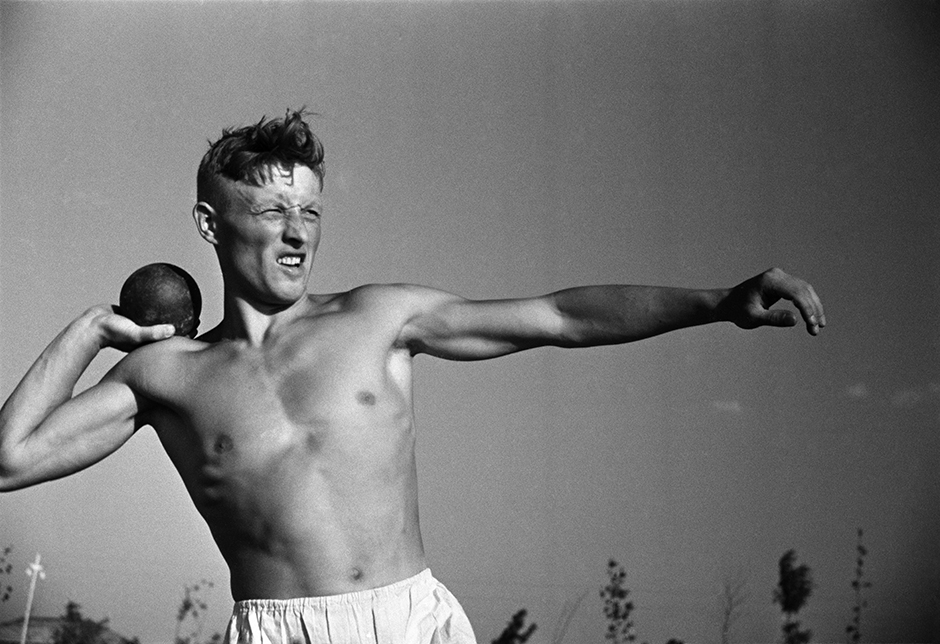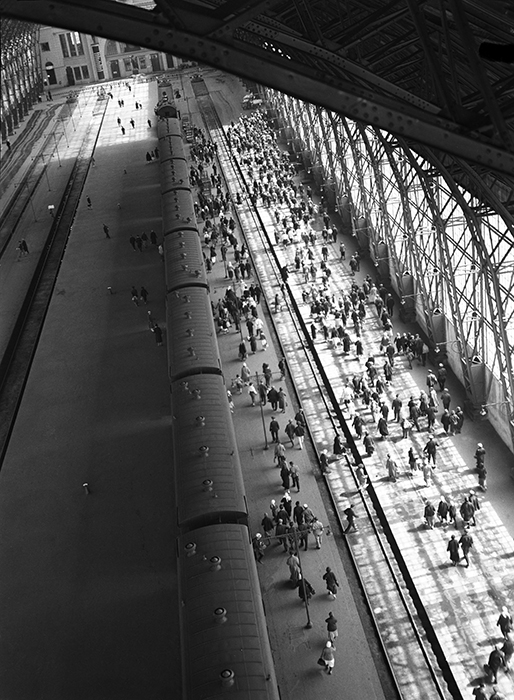 The Russian Association of Proletarian Photographers (ROPF) was formed between 1931 and 1932, and Arkadiy Shaikhet actively participated in its activities. Alexander Rodchenko became one of the leaders of the 'October' group.// Kievsky Train Station. Moscow, 1936
Arkadiy Shaikhet
In the history of Soviet photography, Shaikhet's name is associated primarily with the appearance of a type of journalistic photograph called 'artistic reportage.' Shaikhet was one of the founders of Soviet Photo in 1926. His well-known photographs of the industrialization period in the 1920s-1930s became iconic for Soviet Russia. // Tractor and plane. 1936
Arkadiy Shaikhet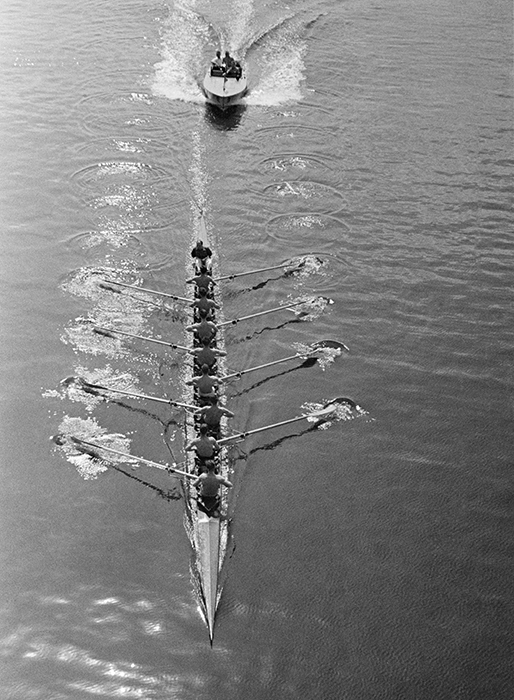 Despite their differing views, photographers in these groups constantly collaborated and made use of one another's work experience, while candidly standing up for their own opinions. However, this was a turning point: photography, like all the official art of the 1930s, was charged with implementing the slogan 'The country must know its heroes'. The open search for new forms ceased. // Day off on the Moskva River. 1940
Arkadiy Shaikhet
Authorial individuality and self-realization were no longer the primary concern of the artist. Propaganda, agitation and the creation of a new image for the country came to the fore. But talent, skill and professionalism remained. All of these appeared in Arkardiy Shaikhet's new stage of work. // Viaduct at the Northern (Khimkinsky) River Terminal. Moscow-Volga Canal. 1939
Arkadiy Shaikhet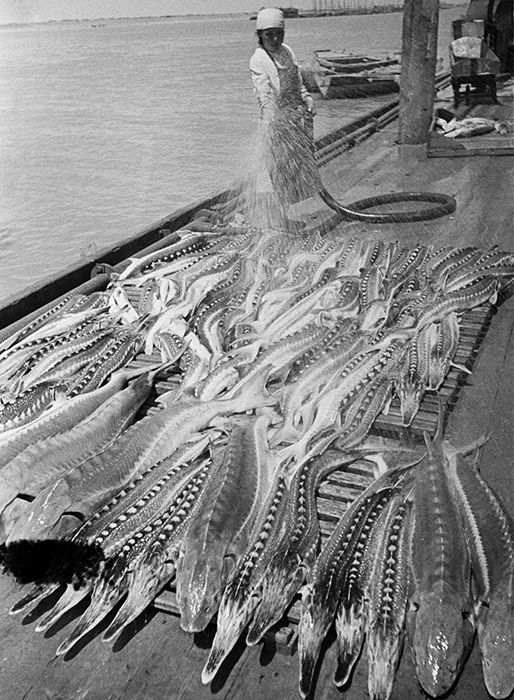 Archive photographs and negatives had to be destroyed as part of an effort to carefully control the contents of photojournalists' archives. // Catching sturgeon on the Volga. Gurievsky Fisheries. July-August 1940
Arkadiy Shaikhet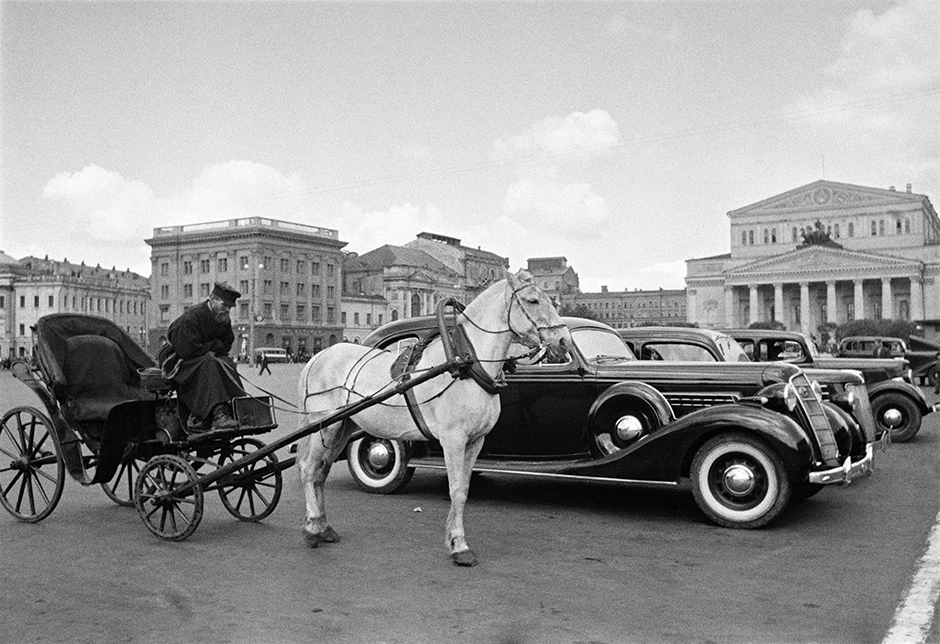 The prominent communists Rykov, Bukharin (Shaikhet photographed him very often), Zinoviev, Kamenev, Radeka and Tukhachevsky all disappeared from the political scene. As such, images of them also had to disappear. // Carriage and car. Taxi rank at the Bolshoi Theatre. Moscow, 1935
Arkadiy Shaikhet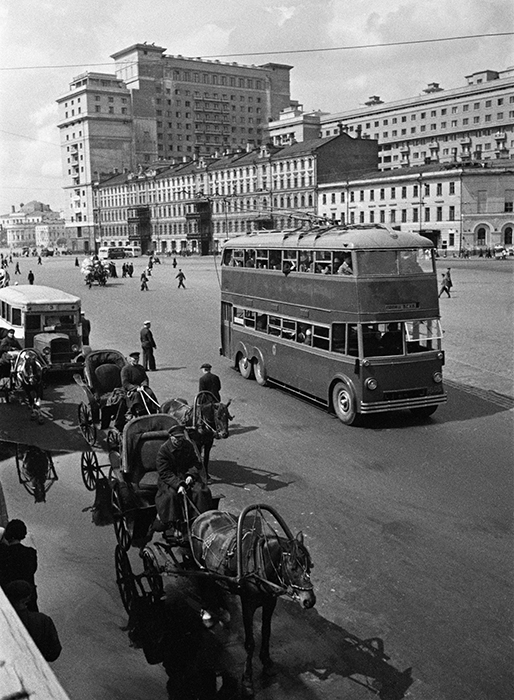 Only neutral figures could remain in the family archive: Lunacharsky, Kirov, Krupskaya, Gorky, Dzerzhinsky, Yaroslavsky, etc. Arkadiy Shaikhet developed and printed his photographs at home. // Okhotniy Ryad, Street traffic. Moscow, 1935
Arkadiy Shaikhet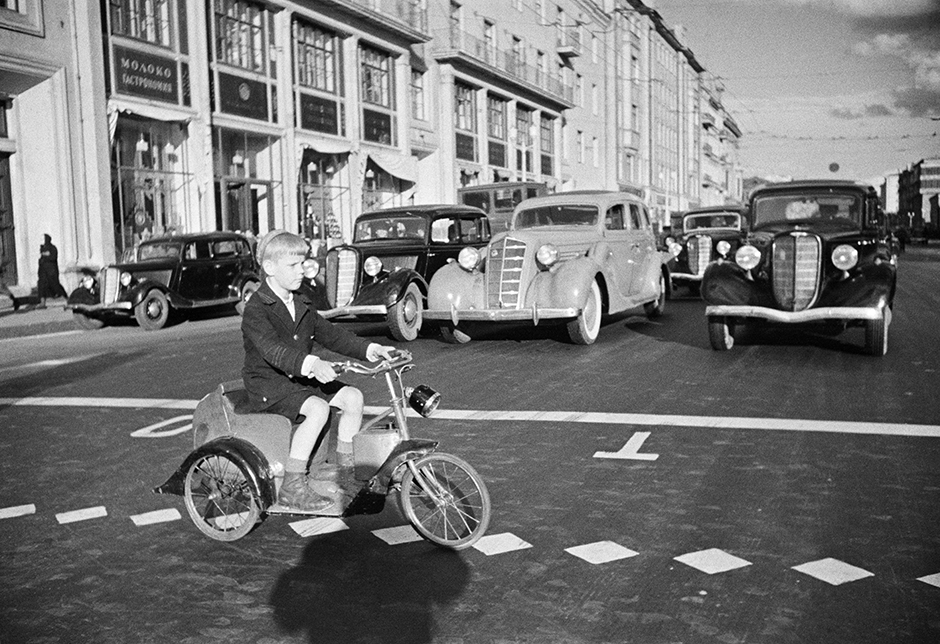 The whole family assisted him in this: washing photographs, rolling them out on glass, glossing and trimming them. His son Anatoly did the retouching. // Boy on a bicycle crosses Gorky Street. Moscow, 1935
Arkadiy Shaikhet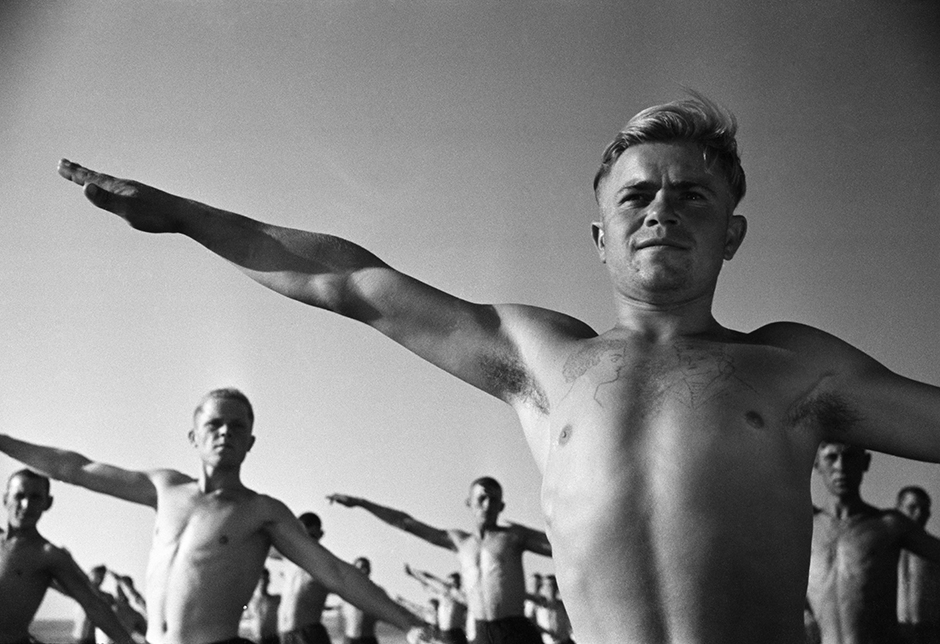 In 1938, Arkadiy Shaikhet was dismissed from the editorial staff of Ogonyok magazine and his work was no longer published in the magazines Soviet Photo and USSR in Construction. In September he was engaged by a new publication, The Illustrated Gazette. // Red Army bathing area. Nikolaev, 1932
Arkadiy Shaikhet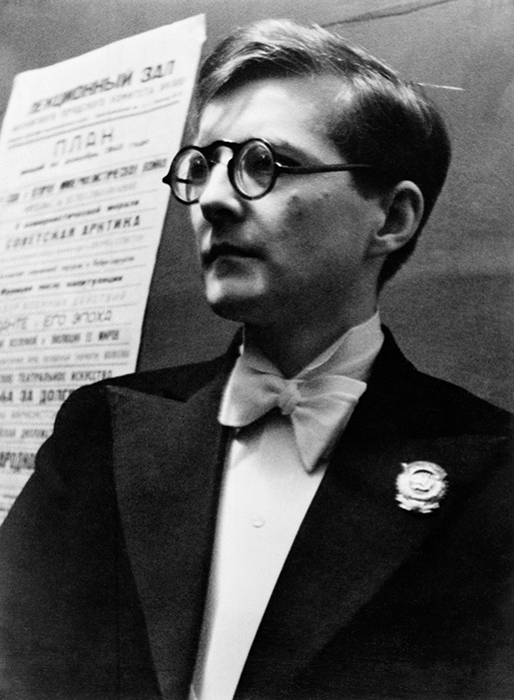 Completely engrossed in his work, he constantly travelled on shoots for Soyuzfoto and the All-Union Agriculture Exhibition. The geography of Shaikhet's photography commissions encompassed the entire Soviet Union. // The composer Dmitri Shostakovich. 1941
Arkadiy Shaikhet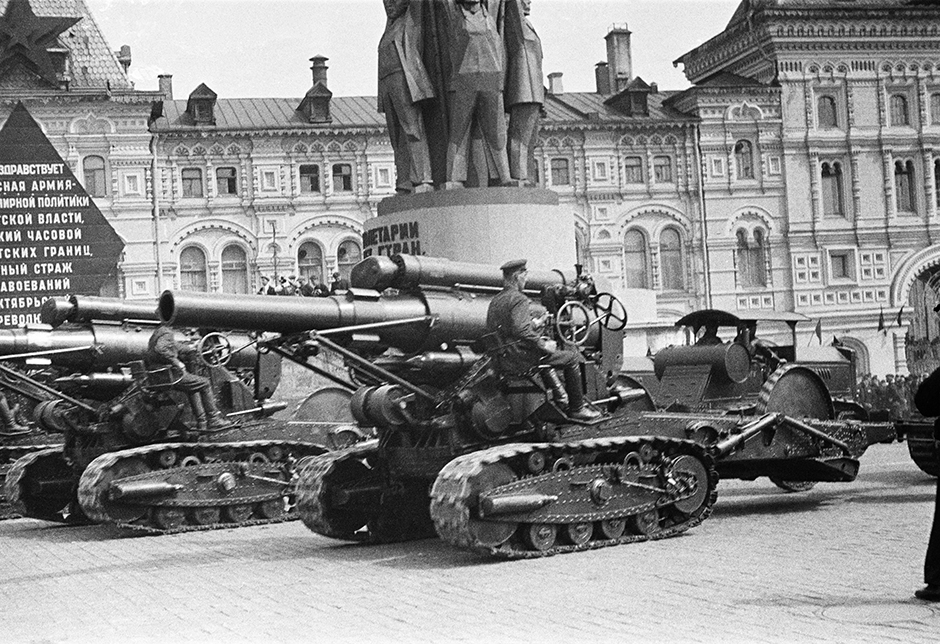 While producing many photographs for periodicals, Shaikhet participated in All-Union Exhibitions. In 1936, he was awarded a Grade I Diploma at the First All-Ukrainian Photo Art Exhibition in Kiev. // Parade of military equipment on Red Square. Moscow, 1 May 1940
Arkadiy Shaikhet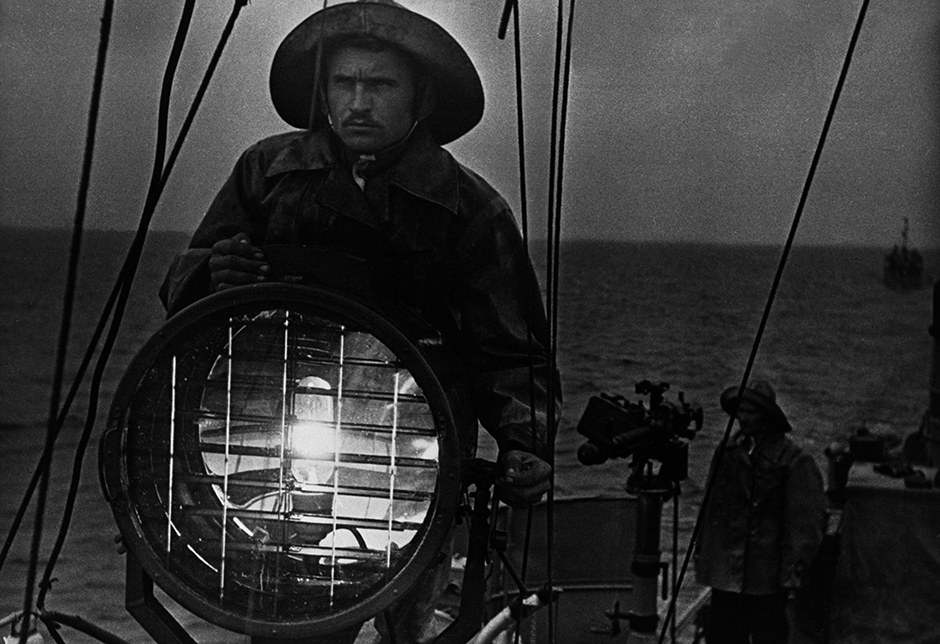 From 1937 to 1938, he presented his photographs at the First All-Union Photo Art Exhibition, including the outstanding image 'Kiev Train Station', and received a Grade I Diploma. // Signal. Fishermen keeping watch. Caspian Sea. 1936
Arkadiy Shaikhet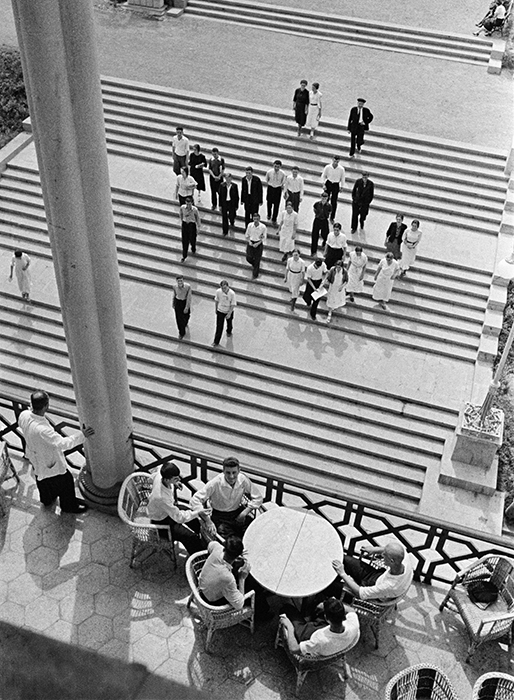 Shaikhet also exhibited his work abroad under the auspices of the All-Union Society for Cultural Relations with Foreign Countries. He presented his photographs at the 31st International Salon in Paris in 1935 and at the 9th International Salon in Antwerp in 1936 while in 1937 he participated in the 'Contemporary Russian Photography' exhibition in London. You can view more pictures by Arkadiy Shaikhet on exhibit at the Multimedia Art Museum in Moscow from 19 September till 19 October. // Flight of steps. Tbilisi, 1939
Arkadiy Shaikhet
All rights reserved by Rossiyskaya Gazeta.
Get the week's best stories straight to your inbox
We've got more than 2 million followers on Facebook.
Join them!