Instaweek: unmooring the Aurora and iPhone 6 hits the shops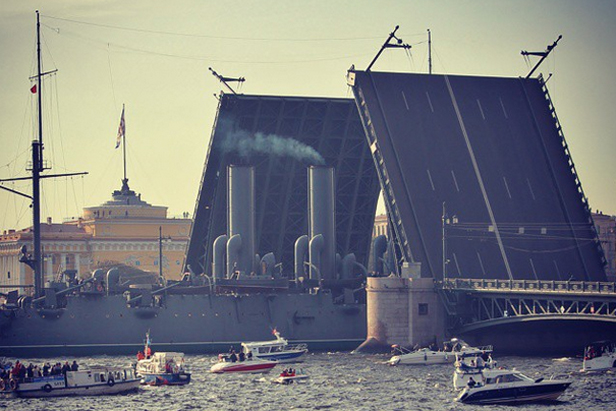 RBTH presents a news digest based on Instagram photos related to Russia.
The March for Peace took place in Moscow and other Russian cities. Its participants made a stand against Russian authorities' political stance regarding Ukraine.
The legendary cruiser Aurora, a symbol of St. Petersburg, headed off to Kronstadt for renovation. It will only return to St. Petersburg's Petrogradskaya Embankment in November. This event is noteworthy as it is the first time in 27 years that the city's drawbridges have been opened in the day time.
A healthy lifestyle and love for sports are gaining traction among Russians. That could explain why 9,000 people, more than twice as many as last year, took part in the Moscow Marathon last Sunday.
The 12th Pacific Meridian International Film Festival, the largest in Russia's east, was held in Vladivostok. 165 films from 39 countries were selected, while only 20 of them took part in the competition. Naomi Kawase's film "Still The Water" won the festival's top prize. The prize for the best directorial work went to Ivan Tverdovsky for his film "Corrections Class".
A wall for free artwas recently opened in St. Petersburg. It is the first such place in the city where graffiti is officially sanctioned. According to the local authorities' plan, other city sites will be opened to be drawn on in the future, but the artistic concepts will still have to be first approved in many cases.
On Thursday night and Friday morning, the iPhone 6 and 6+ went on sale in Russia. Despite numerous critical reviews, dedicated Apple fans sat in front of official Apple distributor stores and waited in line long before they opened.
All rights reserved by Rossiyskaya Gazeta.