Instaweek: Ideas for Russian-style tattoos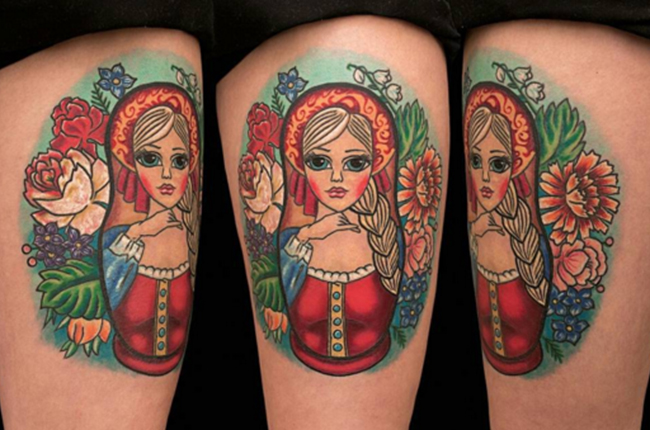 What if you want to show that you're interested in Russia? We made a guide to highlight some trends.
All the tattoos that we chose for this guide are linked to Russia or Russian culture. Let's begin with some images widely associated with Russia. Matryoshka dolls, for instance. A doubly good choice because they're typically Russian and usually adorned with a traditional pattern.
By the way, you always can make a Matryoshka look more modern.
One other symbolical image is Misha the Olympic bear. He was the main symbol of the Olympic Games held in Moscow in 1980. During the closing ceremony, a giant inflatable bear flew away from the stadium to the accompaniment of tear-jerking music — a touching moment remembered by almost all Russians older than 40.
One more Russian-themed idea is a variation of St Basil's Cathedral.
If you're a patient tattoo lover, we have a picture for you. A big, bright tattoo based on an illustration for the fairy tale Vasilisa the Beautiful. The original picture was made by Ivan Bilibin, a Russian illustrator.
Russian writers and poets are adored all over the world. Here is Fyodor Dostoevsky as an octopus…
… Nobel Prize winner Josef Brodsky with a cat ….
… Leo Tolstoy boxing with a "War and Peace" tattoo on his arm …
… or simply "War and Peace" written in Russian.
Russian art is also a source of inspiration. Here is Russian avant-garde artist Kazemir Malevich's most famous painting inscribed in flesh.
Orthodoxy is also becoming a trend. You can make a tattoo of a saint, Russian church domes, the Holy Trinity or write in large print "God, Save the Tsar!"
Looking for something simple? A red heart with the truly Russian name "Ivan" written across it. The perfect choice.
All rights reserved by Rossiyskaya Gazeta.