Instaweek: Celery smoothies do not belong in a Soviet kitchen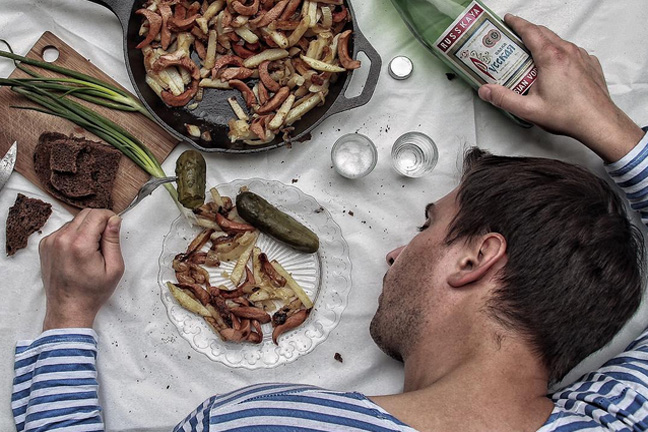 You may think that Instagram is only inhabited by people obsessed with healthy-eating beauty bloggers that enjoy steamed broccoli and celery smoothies. If you are tired of this, if your soul is yearning for a cake with condensed milk and a thick slice of Doktorskaya sausage, then check out the photos at hashtag #FoodStyle2016USSR. Don't forget to wear a bib.

In addition to highlighting typical Soviet cuisine (more info in the blog "Soviet Diet Cookbook"), these Instagram users also selected an appropriate entourage, tablecloth, tableware and accessories.

Russian cottages and village houses are museums of Soviet life. Samovars, tin mugs...

Thick glasses and cups in metal holders (these are usually found in trains) are all stored in attics.

Some people have kept truly ancient stuff - pots for porridge and for cooking meals in a Russian stove.

"Seryozha, how many times do I have to shout – come to lunch!" – that's what this photo seems to be saying. "But, moooom… We're playing! We'll be there in five minutes!"

For many of the participating photobloggers, the contest is a nice opportunity to recall their childhood.

Childhood was such a simple time – when the biggest problem was to choose between sausages with peas or meatballs with mashed potatoes.

Or maybe buckwheat with canned meat?

As you can see, nostalgia can lead you in all sorts of directions. Keep calm and remember to drink three liters of water every day.
All rights reserved by Rossiyskaya Gazeta.