Cinematryoshka: Six Incarnations of Anna Karenina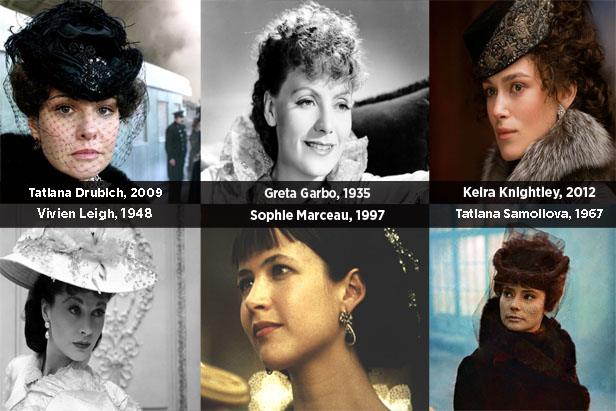 Russian cinema is like a matryoshka: following the recursive method, which in the art criticism is called "mise-en-abîme", it plays with the various meanings. This video-blog is to help you to gain an insight into contemporary Russian cinema.
Video: "Love" (1927), starring Greta Garbo and directed by Edmund Goulding, "Anna Karenina" (1935), starring Greta Garbo, directed by Clarence Brown, "Anna Karenina" (1948) starring Vivien Leigh, directed by Julien Duvivier, "Anna Karenina" (1967), starring Tatiana Samoilova, directed by Alexander Zarkhi, "Anna Karenina" (1997 film), starring Sophie Marceau, directed by Bernard Rose, "Anna Karenina" (2009), starring Tatiana Drubich, directed by Sergey Soloviyov, "Anna Karenina" (2012), starring Keira Knightley, directed by Joe Wright.
Text: Leo Tolstoy "Anna Karenina", voiced over by Vladimir Sedov
Music: Johannes Brahms, Symphony No.3
Editing: Daria Donina
There are more than 20 adaptations of Leo Tolstoy's Anna Karenina. And the more they appear - they more critical notes they collect from Russian literary square-toes. They are trying desperately to accuse directors of being inattentive towards Anna's descriptions.
According to the text, Anna had full throat and shoulders, rounded arms with tiny slender wrists, firm strong neck and straying curls of dark hair. "All that was noticeable was the little wilful tendrils of her curly hair that would always break free about her neck and temples." She prefered to dress in black and simple gowns, and not in these colorful cake-like dresses with laces and ruches. "Her black dress, with its sumptuous lace, was not noticeable on her; it was only the frame, and all that was seen was she--simple natural, elegant, and at the same time gay and eager."
But who said that a director should relentlessly follow the description? He, as an artist, should be free to treat the text. So we won't judge anyone and let you decide, which Anna Karenina is the most Karenina ever. Is it slim Keira Knightley, or gentle and soft Marceau? Or the most beautiful women of the world of cinematography Greta Garbo and Vivien Leigh represents Anna's virtue the best? Are Russian actresses Tatiana Samoilova or Tatiana Drubich more close to the authentic Karenina? It is up to you to decide.
All rights reserved by Rossiyskaya Gazeta.