Cinematryoshka: TarkovskyFest under the auspices of the great director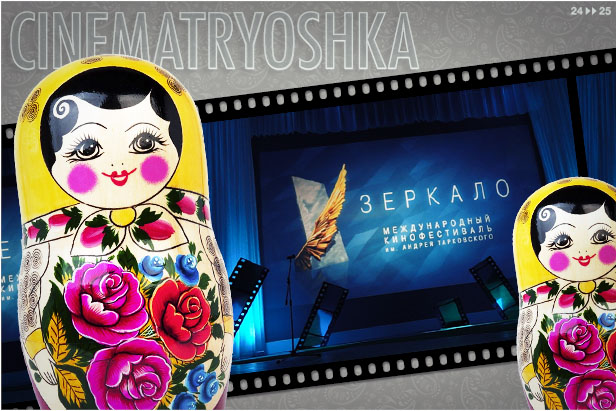 Russian cinema is like a matryoshka: following the recursive method, which in the art criticism is called "mise-en-abîme", it plays with the various meanings. This video-blog is to help you to gain an insight into contemporary Russian cinema.
This time we shall visit Ivanovo Region where the 7th edition of TarkovskyFest took place.
| | | |
| --- | --- | --- |
| Press | | to activate English subtitles |
For six days from 11 till 16 of June Russian cinema-lovers gathered in Plios. Ten films of competition were presented to the audience under tough guidance of president of the festival Russian director Pavel Lungin and programming director, acclaimed Russian critic Andrei Plakhov as well as the of international jury that included von Trier's producer Marianne Slot, general secretary of FIPRESCI Klaus Eder, Russian director Sergei Loznitsa and other honorable persons of the world film industry.
Here is the list of participants of the main competition:
The winner of Grand Prix Huang Ji
– Delirium (directed by Ihor Podolchak, Ukraine - Czech republic)
– Mercy (directed by Matthias Glasner, Germany - Norway)
– The world belongs to us (directed by Stephan Streker, Belgium)
– My dog killer (directed by Mira Fornay, Slovakia - Czech republic)
– Celestial wives of the meadow Mari (directed by Alexey Fedorchenko, Russia)
– The shine of day (directed by Tizza Covi & Rainer Frimmel, Austria)
– Soldier Jeanette (directed by Daniel Hoesl, Austria)
– The color of the chameleon (directed by Emil Hristow, Bulgaria)
– Mai morire (directed by Enrique Rivero, Mexico)
– Egg and stone (directed by Huang Ji, China)
Besides the main competition there were special Russian programme, programme of animation and video-art, special programme "Tarkovsky. Context". Moreover, there was a scientific conference devoted to the impact of Tarkovsky on the world's culture and a few debates about the actual problems of Russian cinema industry and the expectations connected with upgrowth.
Some screenings took course in the regional center Ivanovo, and partly the festival was hold in Yurievets, where director Andrei Tarkovsky grown up.
Ralph Fiennes and Pavel Lungin evaluate the archive
There the guests were able to visit Tarkovsky's house and take a look at his archive. The archive, that mostly corresponds with the years of emigration, was returned to the Motherland in the end of 2012 as a result of a fierce struggle. Tarkovsky's archives, which were put up for auction in London at Sotheby's, were acquired by an official representative of Ivanovo Region. The director's unique legacy was sold for £1.3 million ($2 million). There were 22 bidders at the auction. Those bidding right to the finish included the Ivanovo Region representative, the famous film-director Lars von Trier and an unnamed collector.
All rights reserved by Rossiyskaya Gazeta.