Classical music upon the water in Gatchina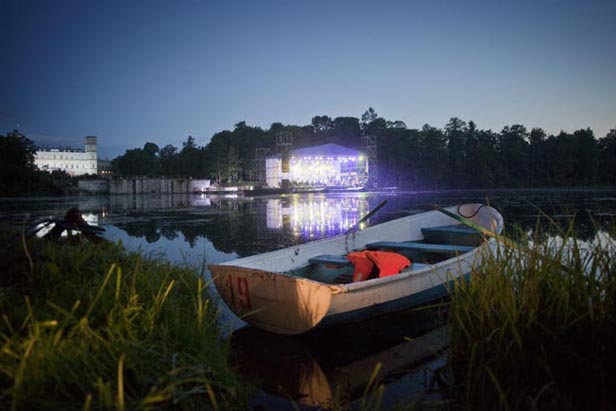 This weekend Muscovites were hanging out in the Gorky Park enthusiatically shaking their bodies to the beats of Arctic Monkeys and Foals. Meanwhile in Saint-Petersburg, which is considered with tongue in cheek as a cultural capital of Russia, the citizens prefered to take a rest on the shore of the White Lake listening to Tchaikovsky...
| | | |
| --- | --- | --- |
| Press | | to activate English subtitles |
The first Night of Music, presented by the Gatchina Palace & Estate, took place in July 2010. Performed by leading symphony orchestras on a floating stage, classical music was heard throughout the night. The Night of Music in Gatchina festival returns in 2013 with the theme, "Between Tchaikovsky and James Bond: Young Virtuosos of the World in Gatchina". As usual the festival took place in Palace Park as an open-air. This is its fourth edition and the first to garner an international status with American, Norwegian, Belgian and Russian conductors and soloists on the bill to perform this five-hour concert of classical music. Compiling different genres, such as jazz and popular soundtrack music from Hollywood blockbusters and Broadway musicals, this unique festival finished with a fireworks show set to Tchaikovsky's 1812 Overture.
All rights reserved by Rossiyskaya Gazeta.