International brass bands go marching in the park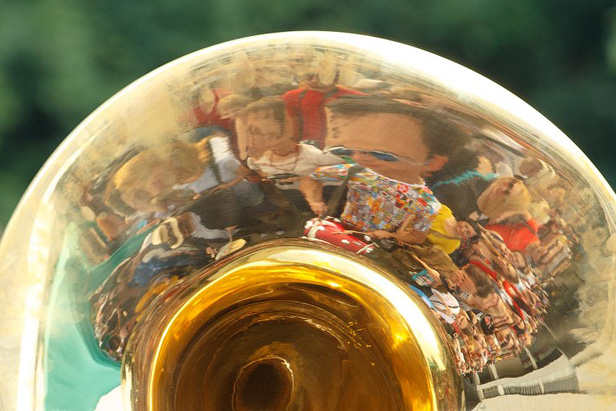 On July 14, the Muzeon Arts Park hosted Russia's first ever "Festival of Marching Bands." Taking part in the festival were brass bands well-known to the Moscow and St Petersburg public, which play on anything that comes to hand: trumpets, trombones, saxophones.
Initially a British-style
brass band
is a musical ensemble comprising a standardised range of brass and percussion instruments. The modern form of the brass band in the United Kingdom dates back to the 19th century, with a vibrant tradition of competition based around local industry and communities. Brass music is
hip-hop
, funk,
techno
, fusion, avant-garde jazz, African, Latin American, and Balkan. Brass bands play their music on the roofs of skyscrapers, on board cruise ships, on cosy boulevard corners, and in small street cafes. The idea of the "Festival of Marching Bands" is to return orchestras to the streets and stations, docks and plazas, summer bandstands, and — most importantly — Moscow's parks.
The main guests were the French brass bands Les Chevals — the only ensemble in the world that plays not only brass instruments, but also conches — and CQMD, the pioneers of Europe's modern marching funk bands. And, of course, the most illustrious representatives of the brass scene in Moscow and St Petersburg: Pakava It, Mosbrass, ½ Orchestra, Bubamara Brass Band, Brevis Brass, and Opa!
All rights reserved by Rossiyskaya Gazeta.