Cinematryoshka: The Russian face of Sherlock Holmes
Sherlock Holmes had time to put in an appearance on British, American and other screens across the world since the cinema began. Russia and the Soviet Union hold their own in this competition.
Actor Vasily Livanov appeared as Sherlock Holmes in a Soviet film in 1980. He managed to portray his character so precisely and in such a heartfelt way that he became an Honorary MBE (Member of the Order of the British Empire) for the best screen portrayal of Sherlock Holmes by a non-British.
Instrumental to the success was the idea to represent Sherlock Holmes as a man, with his characteristic charm and weaknesses. Livanov's Holmes came across as both rational and soulful, with a great sense of humour and distinguished appearance.
Striking is the absolute similarity of Vasily Livanov to Sherlock Holmes as shown in an illustration by Sidney Paget, a good friend of Conan Doyle's – the same peaky nose, the determined, penetrating glance and the same aristocratic bearing.
The Soviet Sherlock Holmes portrayed by Livanov is not inferior to the British detectives as played by Benedict Cumberbatch and Robert Downey Jr.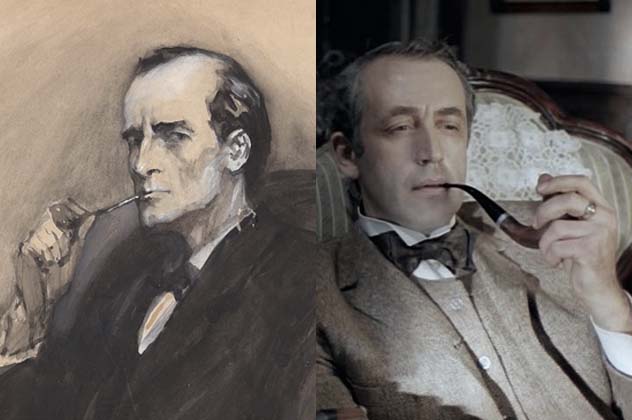 Sherlock Holmes pictured by Sidney Paget (left) and played by Vasily Livanov (right)
All rights reserved by Rossiyskaya Gazeta.