Video: Russian, Serbian, and Belarusian military destroy 'terrorists'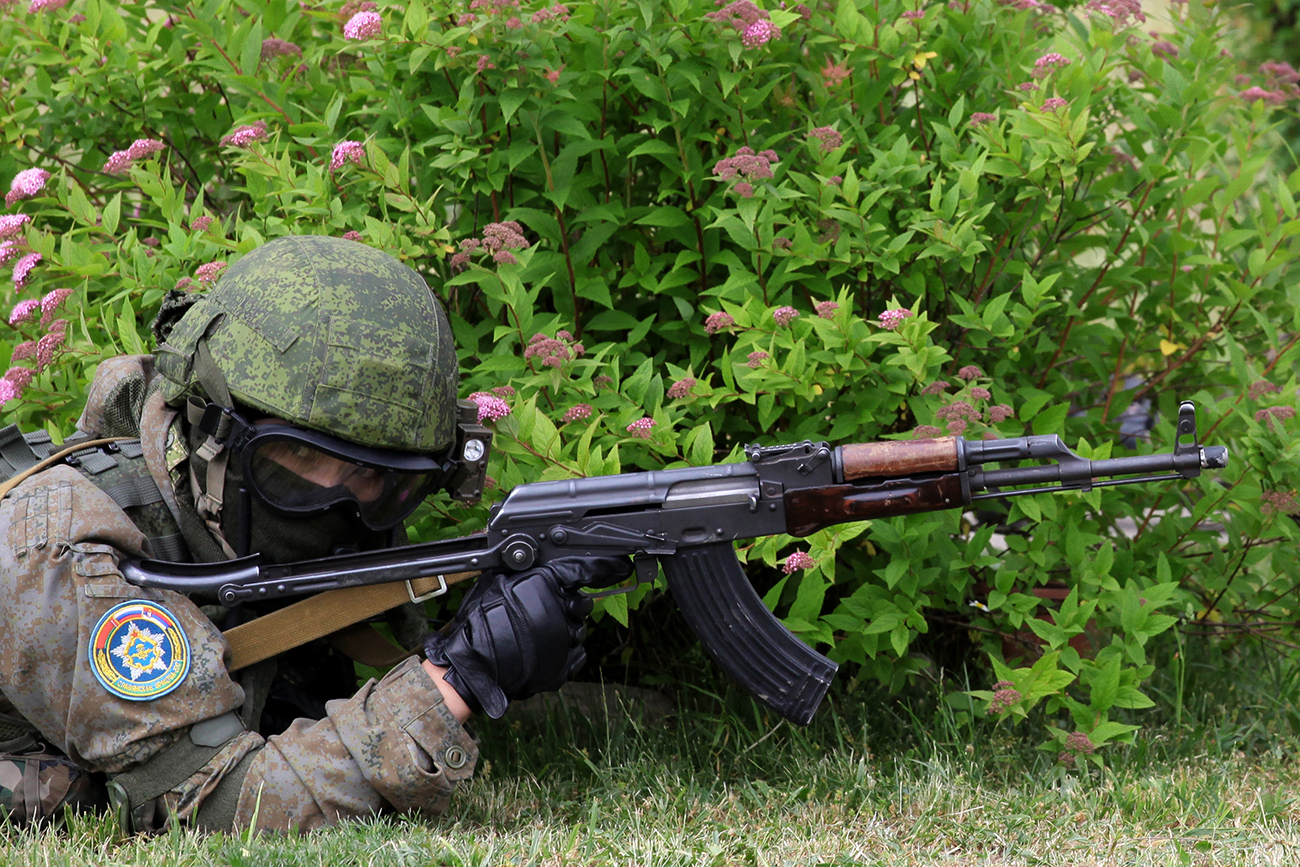 A Russian serviceman is seen here during the active stage of the 2017 Slavic Brotherhood drill at the Brestsky base in Belarus.
Sergei Leskiec/RIA Novosti
For the first time, the trio of nations link up for army exercises.
The active phase of Slavic Brotherhood 2017 maneuvers began on June 12 in the city Brest (1,100 km west of Moscow) in Belarus. The Russian Defense Ministry has revealed a glimpse of the military operations.
During the first stage of drills, an international squad was deployed 10 km from a "terrorist" base before marching through forests and crossing water obstacles. The soldiers' mission was to eliminate insurgents from a captured hydro technical installation and defuse a "bomb."
The operation began as planned although the squad was ambushed by teams chosen to act as enemy reconnaissance units. The attack was repelled and the march continued.
Meanwhile, airborne troops from the three countries - who were deployed in the opposite direction - started their journey to the terrorist base.
According to the Ministry of Defense, the site was cleared when the two teams linked up at the meeting place and stormed the building from different sides.
During Slavic Brotherhood 2017, personnel from the trio of countries have to endure 10 tactical exercises.
Yet the maneuvers should not be called "large-scale," according to Vladimir Evseev, deputy chief of the Institute for CIS Studies, as they're only joined by 1,000 soldiers and 150 light armored vehicles.
"The international battalion is commanded by Belarusian Major General Vadim Denisenko. His actions are closely watched by 22 military observers from the UK, China, Syria, Vietnam, and Russia' the military expert told RBTH.
According to Evseev, the maneuvers send no political message to any NATO countries as they're only being held to increase military cooperation between Russia, Serbia, and Belarus.
"Years before the Ukrainian crisis, we held similar drills with some NATO members – France, Germany, the U.S. etc. And today we are trying to reestablish this format. Yet without success," said TASS political analyst Viktor Litovkin.
If using any of Russia Beyond's content, partly or in full, always provide an active hyperlink to the original material.