Lavrov, Kerry tackle adoptions and Syria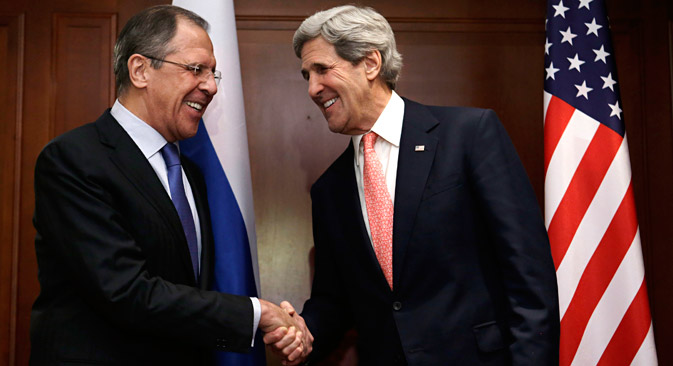 Russian Foreign Minister Sergei Lavrov and his American counterpart John Kerry remained satisfied with the Berlin meeting. Source: Reuters
Both Russian and U.S. officials are satisfied with results of the first meeting between U.S. Secretary of State John Kerry and Russian Foreign Minister Sergei Lavrov that took place in Berlin on Tuesday
Russian Foreign Minister Sergei Lavrov and his American counterpart John Kerry discussed a wide range of international problems during the Berlin meeting yesterday. Their geopolitical agenda included the problems in the Middle Easta and the Korean peninsula (such as the Iranian nuclear program, the North Korea nuclear tests, the Syrian stand-off), American missile system in Europe and U.S. adoptions of Russian children.
Both U.S. and Russian officials regard the meeting as a positive sign in the Russian-American collaboration. U.S. Ambassador to Russia Michael McFaul views the first meeting between Lavrov and Kerry as a positive sign for U.S.-Russia bilateral relations. "Good start!" he said on Twitter on Wednesday. Viktoria Nuland, spokesperson for the U.S. Department of State describes the negotiation as "serious" and important as well.
Likewise, Russian Foreign Minister Sergei Lavrov remained satisfied with results of the meeting with Kerry.
"In my opinion the conversation was constructive. I felt the desire of my counterpart John Kerry to built relationship based on partnership without of course turning a blind eye to issues irritating our relations," Lavrov told journalists after the meeting with Kerry.
The meeting lasted more than two hours and the parties discussed almost every aspect of bilateral Russian-U.S. relations, as well as key issues on the international agenda making a stress on the Middle East situation, Lavrov said.
Speaking about irritants in Russian-U.S. relations, he said that he means the recently passed Magnitsky Act, as well as problems with Russian children adopted in the United States.
Adoption stand-off
Meanwhile, Kerry has promised that he will personally take measures to ensure transparency in the area of adoptions of Russian children by U.S. families.
"We extensively discussed problems surrounding adopted Russian children. John Kerry acknowledged that this problem is not farfetched but is real and assured me that he will personally take all the necessary measures to ensure full transparency and accountability for us in this area in the U.S.," Lavrov told journalists following a meeting with Kerry in Berlin on Tuesday.
"I believe this is a very important statement. We will seek to make sure that these words are turned into practical deeds," Lavrov said.
Syrian conflict
Russia and the United States are determined to do whatever they can to create conditions facilitating the beginning of a dialogue between the Syrian government and the opposition as soon as possible, Lavrov said.
"As concerns Syria, the most important is that we have reaffirmed our common understanding that we cannot tolerate violence and, through this understanding, our determination to do everything that depends on Russia and the U.S. Surely, not everything depends on us, but we will be doing what does depend on us in order to create conditions facilitating the soonest possible beginning of a dialogue between the government and the opposition," he said.
"Nobody will resolve the problem for the Syrians themselves, but for discussions on this resolution to begin, it is necessary to sit at the negotiating table," he said.
At the same time, Lavrov has called on the Syrian opposition to start talks with the government.
"We expect that the opposition that will be meeting in Rome within days with representatives of Western and some of the regional countries will also advocate dialogue because contradictory statements about that have been coming from the lips of the opposition, and that it won't just advocate dialogue but will also name its team of negotiators," he said.
Lavrov mentioned that proposals for the earliest possible talks between Syria's government and opposition were discussed during Monday's visit of Syrian Foreign Minister Walid Muallem to Moscow. Muallem and his delegation "assured us that they have both a team of negotiators and willingness to start a dialogue as soon as possible," Lavrov said.
The article is based on materials from Interfax.ru.
The information in this section is provided by the Interfax news agency and is intended for personal use only. It may not be reproduced or distributed in any form without express permission from Interfax. To request permission to republish, email: ifaxru@interfax.ru
All rights reserved by Rossiyskaya Gazeta.