Russia to have virtual Western art museum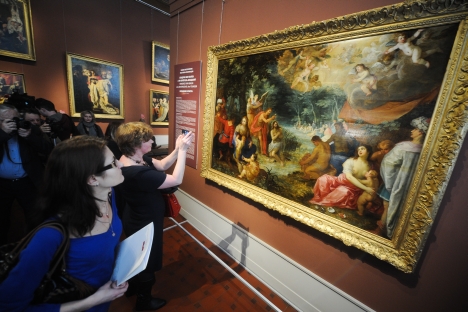 The painting - "The Baptism of Christ" by Hendrick van Balen presented at Moscow's Pushkin Museum. Source: ITAR-TASS
Russia is going to reopen the Contemporary Western Art Museum, that was closed in 1948. The museum is expected to work in the online format.
The Western art museum will reopen in the online format, Russian Culture Minister Vladimir Medinsky told a Wednesday press conference on Moscow.
"I signed an instruction yesterday: We will open a virtual Western art museum this year for certain," he said at a meeting of the Expert Council on Tuesday. "Frankly, I am confident that a blunder was made in 1948: They should not have liquidated the museum. But I suspect that the correction of this mistake may be an even bigger error now."
Pushkin State Museum of Fine Arts Director Irina Antonova proposed in the Direct Line with President Vladimir Putin on April 25 to restore the contemporary Western art museum and to return exhibits transferred after the museum's liquidation to the Hermitage.
In turn, State Hermitage Museum Director Mikhail Piotrovsky protested against the possible restoration of the museum with exhibits kept in the Hermitage.
Prime Minister Dmitry Medvedev ordered Culture Minister Medinsky together with the Union of Russian Museums and other concerned parties to consider by June 3 the expediency of opening a new contemporary Western art museum in Moscow.
More than 540 paintings from the Hermitage Museum collection, among them works by Rembrandt, Rubens, van Dyck, Jordaens, Poussin, Watteau and Titian, were transferred to the Pushkin Museum in several stages in the 1920s-1930s.
Ninety-three paintings from the Contemporary Western Art Museum were given to the Hermitage in the early 1930s in compensation. The Contemporary Western Art Museum was formed in 1923 in the merger of the first and second museums of contemporary Western art.
After the liquidation of the Contemporary Western Art Museum in 1948, Hermitage Director Joseph Orbeli agreed with Pushkin Museum Director Sergey Merkurov to split the collection. Moscow kept paintings by Courbet and Manet. Most of the impressionist and post-impressionist paintings were given to the Pushkin Museum, and the Hermitage got the Shchukin collection of Picasso's cubist paintings.
Meanwhile, Russian presidential administration will not interfere in the situation with the Western art museum's reopening, presidential press secretary Dmitry Peskov said.
"We will not interfere. This is not an area of the administration or the head of state," Peskov told Interfax.
He said the problem should be resolved with due account of the opinions of the two museum keepers and the Russian Culture Ministry.
Peskov also said he knew nothing about the appeal of St. Petersburg Legislative Assembly deputies to the Russian president to keep the impressionist collection at the Hermitage.
The information in this section is provided by the Interfax news agency and is intended for personal use only. It may not be reproduced or distributed in any form without express permission from Interfax. To request permission to republish, email: ifaxru@interfax.ru
All rights reserved by Rossiyskaya Gazeta.