Second issue of new Telegraph supplement perfects its formula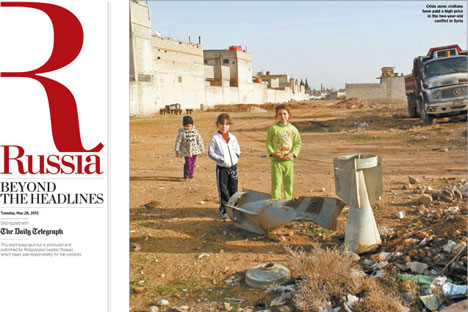 Dear Russia Beyond the Headlines readers,
Welcome to the new print supplement to the Daily Telegraph, Russia Beyond the Headlines. We're out today, Tuesday 28th May!
Russia Beyond the Headlines (formerly 'Russia Now') comes to you with a whole new look, complete with an attractive, easy-to-read design, new in-depth feature stories and a brand new Sports section. You can also use our handy QR-codes to easily access rbth.ru and our partner websites.
Among the highlights in this edition are analysis and features on the G8's diplomatic efforts to resolve the Syria crisis, the impact of opposition leader Alexei Navalny's trial on Russia-EU relations, the story of Russia's skydiving military chaplains, great Russian art on show in London, and much, much more!
This great issue follows on from last month's Russia Beyond the Headlines, which featured stories on Cyprus, Russia's burgeoning wine industry, the World Rugby Sevens in Moscow, and analysis on Afghanistan.
We would love to hear what you think about our new-look Russia Beyond the Headlines supplement in The Daily Telegraph. To give us your feedback, ideas and suggestions, simply complete this short questionnaire here: rbth.ru/dt_relaunch
Thank you for your help! We hope you enjoy reading Russia Beyond the Headlines now and in the future!
Yours sincerely,
The editors at Russia Beyond the Headlines
Click here to enlarge the infographics on the new design
All rights reserved by Rossiyskaya Gazeta.