Next top 50 Russian startups to be presented this summer in Moscow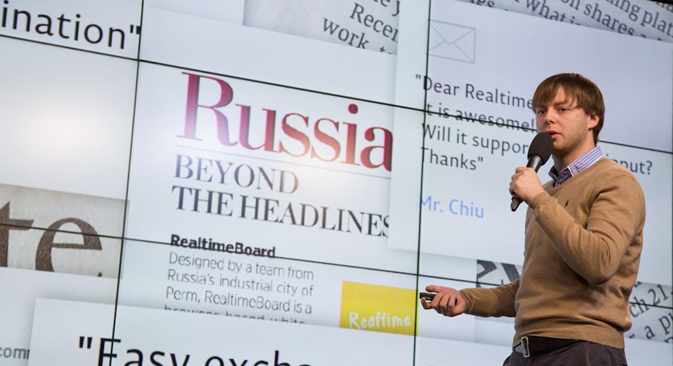 New and already-established start-ups will be put to the test to demonstrate the potential of innovative projects in Russia. Source: Press Photo
The second edition of the list of most innovative and prominent companies in the country aims at highlighting the potential of the newcomers to the startup market and confirm the achievements of those in a consolidated position. Who is in and who is out this summer? Find out on RBTH
On June 3 the summer edition of the Top 50 Russian Startups rating will be announced in Moscow during the Demo Europe conference at the Digital October Center.
The rating's goal is to highlight the importance of Russian startups working in the spheres of IT, high-tech, biotechnology and medicine.
The previous and first version of the rating was presented in December 2012 during the Techcrunch Moscow event.
"It is helpful to know what we have: the project has promoted a more serious attitude toward Russian startups, encouraged them to participate in the conference and provided good media coverage. We know how challenging it can be to assess a startup; so the rating will definitely help investors. If your startup has a high rating, it can help you a lot," said Digital October CEO Dmitry Repin.
According to the expert, the conference was attended by almost 80 percent of Russian venture capital investors and numerous business angels. "I guess that all of the startups present enjoyed support, one way or another. About 30 percent of them have received venture investments from institutional investors," said Repin.
Organized by Digital October and the Greenfield Project, the rating will be distributed in collaboration with PwC, the Center for the Commercialization of Innovation, the Medstart association, and with the support of the Russian Venture Company.
Russia Beyond the Headlines (RBTH) is the general media partner for the project and will feature the startups that made the top 50 list. The list is updated with the most recent data every six month.
RBTH wishes good luck to the 2013 nominees - we look forward to following your steps to success and telling the world about it!
All rights reserved by Rossiyskaya Gazeta.