100 000 children will get presents from Russian children fund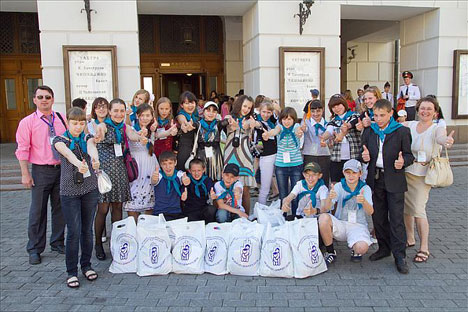 More than 100 000 disabled and orphan children from across the country will celebrate International Children's Day in theaters and circuses as famous Russian writer Albert Likhanov, founder of Russian Children Fund, one of the oldest charity organizations of Russia, told RBTH in an interview.
Press photo
74 offices of the fund – from Vladivostok to Kaliningrad – have organized cultural and sport events for these kids.
More than 10 thousand orphans, disabled kids or children from poor families from all of the Russian regions and former Soviet republics will visit Moscow on June 1st.
The event will be opened at the Bolshoi Theater with an opera "A child and magic". After the show children will get a present from RCF – a pack of books and sweets.
Little theater-goers will also visit another 14 famous Moscow theaters to watch plays based on Meterlink, Oscar Wild, Molier and Russian playwrights' stories. A visit to the circus is also on the list. On this day children will dine at finest restaurants.
For visiting kids the program has been extended for another 5 days. They will enjoy an excursion to the Kremlin and Great Patriotic War museum on Poklonnaya mount in Moscow, as well as Moscow parks, zoo, Delphinarium, aqua park and go on a ferry trip across Moscow river.
Sick children who are being treated at Moscow hospitals will get their presents from RCF too.
RCF doesn't limit its activities to celebrating thematic holidays. The fund has 70 active regional programs. These include aid for children heart surgeries, rehabilitation program for deaf children, tuberculosis infected children, criminal teens who had been sentenced to terms in work camps and others.
All rights reserved by Rossiyskaya Gazeta.