Another Devils player moves to St. Petersburg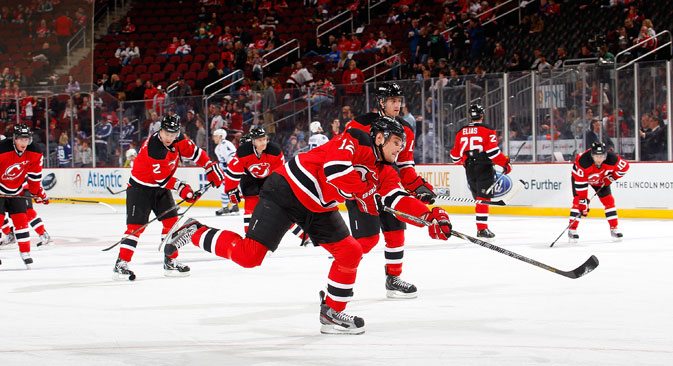 Alexei Ponikarovsky #12 of the New Jersey Devils skates during warmups prior to an NHL hockey game against the Toronto Maple Leafs at Prudential Center on April 4, 2013 in Newark, New Jersey. Source: Getty Images / Fotobank
The winner of the last regular KHL (Kontinental Hockey League) championship, SKA St. Petersburg, has signed a two-year contract with a former forward of the New Jersey Devils, Alexey Ponikarovsky.
Following Ilya Kovalchuk, another player from the New Jersey Devils, Alexey Ponikarovsky, has moved to SKA St. Petersburg. "Ponikarovsky has great experience playing in the NHL," the official website of the club quotes the general manager of SKA, Alexey Kasatonov, as saying. "The arrival of a large and physically strong player adds power to the SKA offense."
In 1998, the Ukrainian national team forward was selected in the fourth round of the draft by Toronto, under the number 87. Alexey played 10 years with the Maple Leafs, after which he was traded to Pittsburgh, Los Angeles, Carolina, Winnipeg and New Jersey.
Alexey Ponikarovsky played 739 matches in the NHL and earned 342 points. During the NHL lockout, the forward played in the KHL for Donbass; in 32 games, Ponikarovsky earned 18 (5+13) points.
The SKA recruit admits that his move to St. Petersburg was due to Kovalchuk. "We spent a holiday abroad together, and Ilya told me a lot about the SKA," the official YouTube channel of SKA quotes Ponikarovsky as saying.
The transfer of the Ukrainian forward to the SKA required that he first obtain Russian citizenship. This was at the insistence of the club management, so that they would be able to announce another legionary.
The Ukrainian national team, where Ponikarovsky used to play, did not qualify for the Olympics, and it has not played in the strongest groups at the world championships for a long time. Then again, such nuances as honoring the flag have long been pushed to the sidelines when it comes to the signing of a lucrative contract.
Since the takeover by Gazprom's management, SKA treats people from the NHL with special reverence—but, so far, only Kovalchuk has met their expectations. Now, another former Devil has to prove that it was not in vain that they issued him a Russian passport.
First published in Russian in Gazeta.ru.
All rights reserved by Rossiyskaya Gazeta.