RBTH releases new app for iPad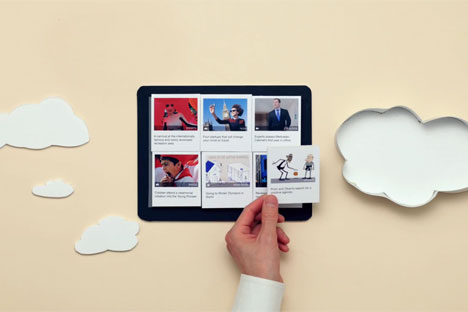 Customizable content in a new design
On Oct. 3, the international project of Rossiyskaya Gazeta, Russia Beyond the Headlines, released a completely updated application—the RBTH for iPad.
Users of the new version are offered content customization options, a fundamentally new design created in accordance with iOS 7 guidelines, and much more.
"This version of RBTH for iPad 4.0 should be given a name different than 4.0, because there are colossal differences between the current and previous versions. The new product corresponds to the latest digital trends, and, for the first time, the application is available to a wider audience, as it does not require registration," said Eugene Abov, head of RBTH.
RBTH for iPad: new design, customization and a better navigation. Source: YouTube / RBTH
Compared with the previous version, the RBTH for iPad 4.0 has undergone significant changes that make the app easier to use and more enjoyable.
1. Customization of content: The new version of RBTH for iPad allows subscribers to customize the application according to their preferences, with the help of the "My Choice" screen, where only materials selected by the user are displayed.
2. New design: One of the major global changes in the application is its updated design, created in accordance with the guidelines of the iOS 7 operating system. Users will benefit from the simplicity, minimalism and clarity of the interface, which reflects the latest trends in the visual policy of Apple©.
3. No need to register: Now everyone can enjoy the benefits of the RBTH for iPad application, as registration is no longer required. However, one additional feature will be available only to registered users—the ability to customize the "My Choice" screen. In addition, the first 100 users to subscribe to the new version will receive a bonus surprise from RBTH.
4. More content: The new version has even more exclusive content that is available only to readers using the application. In addition, there are videos, photo essays and interactive illustrations. Not only has the amount of content changed, but its quality has undergone changes as well; hyperlinks are shown in the text and reference materials appear in the margins.
5. Simple structure and easy navigation: The application's developers simplified its structure and made navigation user friendly and intuitive. For example, categories have been moved under the navigation bar: Now it is much easier to navigate through all the sections and headings.
Other significant updates include a new format for the "Editor's Picks" section, the "Related Articles" function now found at the end of each article, and new opportunities available for advertising and the assessment of its effectiveness.
Download the new RBTH for iPad app
Watch a video about app creation and share with friends
RBTH for iPad: For each of you there is a Russia of your choice. Source: YouTube / RBTH
Hear what editors of the RBTH for iPad app have to say
All rights reserved by Rossiyskaya Gazeta.