Top 6 reasons you should download the new RBTH for iPad app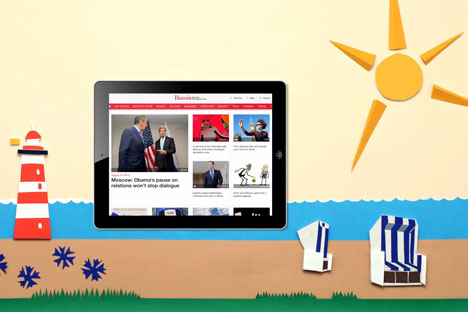 Why should you make the big leap? Let's run through some of new features:
Why should you make the big leap? Let's run through some of new features:
1. Discover the Russia you didn't expect
There are plenty of crazy and beautiful places to discover in Russia. Don't you know that you could spend the most romantic weekend of your life in the Kuril Islands? Get ready to be amazed as you look through our photo galleries, videos and interactive pictures - for each Siberian winter, there is a tropical Moscow summer.
2. An all improved design and a better navigation set
Yeah, we are all very excited about the iOS 7 new flat design. Since it's such a big deal we decided it was time to change our dark background and make the structure of RBTH for iPad simpler and clearer.
3. The customization options
You will no longer have to browse the entire website in search of the topics you care about - set your customization preferences in the My Choice section and the stories will come searching for you! We understand that some of you might want to see less of Putin and more bears drinking vodka in the news feed, so check out the simple way to create your customized homepage.
And here is a bonus for you - be the first to create your own homepage with the help of My Choice and get exclusive PDF content from RBTH.
4. More involving information
All the stories are now enriched by related content, additional reference notes and images. We work hard to deliver to you more and more interesting information on specific subjects every day.
5. Free download
With RBTH for iPad you will get original and professional content from independent journalists who are passionate and knowledgeable about Russia for free. We work hard to give you high quality information in a simple format.
6. Exclusive content
The first articles from our upcoming "30 under 30" special project on business are already available in the app!
All rights reserved by Rossiyskaya Gazeta.