Rare snakes in Moscow Zoo produce eggs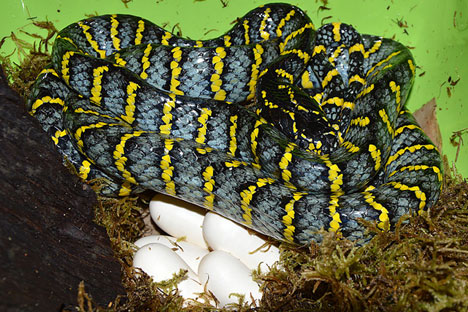 Source: Courtesy of Moscow Zoo
Two rare tropical snakes have surprised Moscow Zoo biologists by successfully laying eggs, a first for such snakes in captivity.
Female Philippine mangrove snakes laid six eggs, and the New Guinea boiga in mid-November produced eight eggs. Moscow Zoo scientist said such active reproduction of snakes is a unique event in any zoo, as the reproduction of such snakes in captivity has never been successful. The eggs are expected to hatch in February in the zoo's incubator.
"Snakes bred in such a zoo nursery like ours, where we rear rare species of animals, but so far none of the zoos in the world have ever achieved this," a zoo spokesman said.
It is worth noting that the Philippine mangrove snakes are no longer kept in any zoo in the world, so it means that Moscow does not have competitors. Such mangrove snakes are rare and are only found in two Philippine Islands --Luzon and Polilo. Catching them in the wild is incredibly difficult.
The New Guinea boiga is a rate tree snake found in New Guinea and many of the surrounding islands, and in Northern Australia and the Solomon Islands. "But, despite repeated attempts at her breeding in various zoos around the world, it still has up to now not been successful," the zoo spokesman said.
All rights reserved by Rossiyskaya Gazeta.