Tver groups wants to ban Eurovision because of transexual singer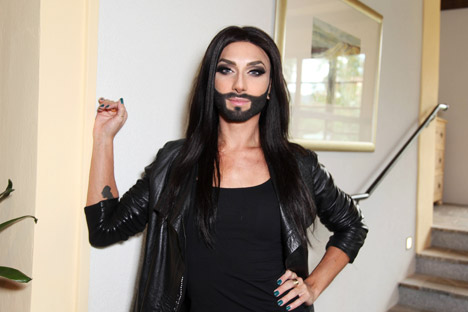 A parents group from Tver are demanding the prohibition of Eurovision broadcasts in Russia, because of an Austrian singer with a beard a woman's dress.
Conchita Wurst. Source: Lori / Legion Media
A parent's organization in Tver, the All-Russia Parents Assembly, has appealed to the Ministry of Communications and Mass Telecommunications, asking the agency to ban the broadcast of the 2014 Eurovision contest on Russian television channels.
The group says one of the singers, Austria's Conchita Wurst, "promotes a lifestyle unacceptable for Russian society."
The singer has a beard and wears dresses and high heels, which the Tver groups said is offensive. Thomas Neuwirth became a woman in 2011, and changed his name to Conchita Wurst.
In total, 385 people have already signed a petition, supporting the idea of prohibiting the broadcasting of this contest. In Belarus, there were also activists on the Internet, who were demanding the prohibition of the competition, calling it "a hotbed of sodomy."
Some observers said the Ministry of Communications is likely to ignore the appeal from the Tver parents' organization. Should the ministry take into consideration this appeal of the activists, Russia may well be excluded from the competition.
According to the rules of Eurovision, all actors on the stage are equal, and if Russia refuses to broadcast the contest as a whole, it can be prohibited to send its singers there.
In the past, Eurovision has had transvestites competing, and some have even won. In 1998, the top prize was won by Dana International from Israel, who was born a man and competed sex change surgery as a woman. In 2002, three transvestites, dressed as flight attendants, represented Slovenia.
Based on materials from NEWSRU.com and Gazeta.ru.
All rights reserved by Rossiyskaya Gazeta.