Sasha Grey may sue Telegram for $1 million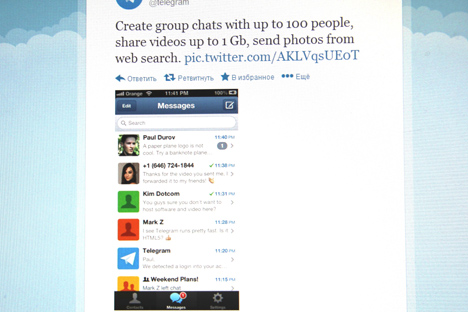 The developers of the mobile messaging application Telegram may be facing a lawsuit for illegally using the name of former porn star Sasha Grey.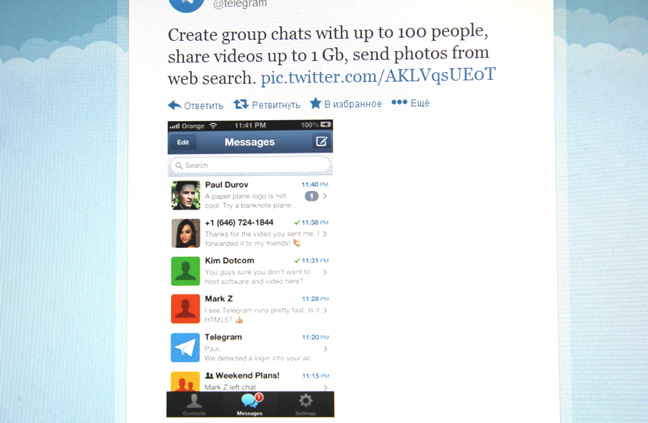 Could Telegram, Pavel Durov and Sasha Grey be good neighbours on Twitter? Source: RBTH
Telergam was developed by Pavel Durov, the founder of the popular Russian social network platform VKontakte. The Telegram ad in Apple's App Store featured a screenshot of a chat, which allegedly took place between Sasha Grey, NSA whistleblower Edward Snowden, and WikiLeaks founder Julian Assange. The porn star's company, Sasha Grey Inc., says neither Sasha Grey now her representatives have given consent to the use of her name in promoting Telegram.
Sasha Grey Inc. says it will investigate the incident and is considering suing the application's U.S.-based developer Telegram LLC.
U.S. lawyer Arkady Bukh comments that if the lawsuit does get filed, the case will be heard by a California federal court. Bukh says 90 percent of such cases are settled out of court because of the steep legal representation costs.
Sasha Grey may theoretically sue Telegram for up to $1 million, but there is still a chance of an out-of-court settlement: The porn star has a verified VKontakte account, and is a very popular personality with VKontakte users.
It is worth noting that the Telegram ad on the webpage of the Google Play online store features a chat with the physicist Erwin Schroedinger.
Launched in August 2013, Telegram has already been involved in several scandals. In one such incident, the independent investment group United Capital Partners, which holds 48 percent in VKontakte, expressed its dissatisfaction with the fact that Durov was developing the app under the aegis of his own investment fund, Digital Fortress, and suspected him of channeling VKontakte
intellectual property and programming resources into the new product. Later, Durov was suspected of surrendering the Telegram encryption algorithm to the US security services.
U.S. porn star Sasha Grey (born Marina Ann Hantzis) began her career in 2006 and featured in more than 200 adult movies. She left the business in April 2011. On April 30, 2012, Sasha Grey started a VKontakte account, uploading a photo album entitled SG projects, which contained fragments from her movies. She now positions herself as a DJ.
All rights reserved by Rossiyskaya Gazeta.