Russia working on lightweight successor to MiG-35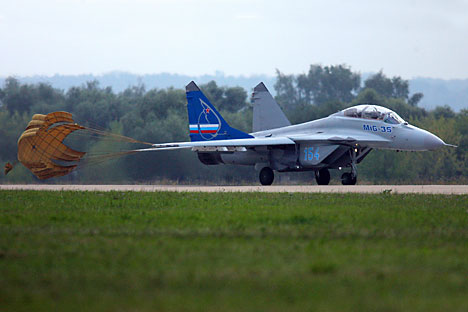 The fifth-generation fighter would feature advanced avionics and weaponry.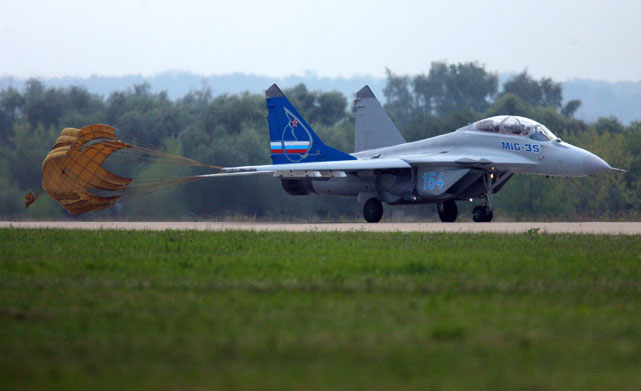 MiG is waiting for a Russian Defence Ministry contract for the supply of MiG-35s. Source: RIA Novosti
The Russian aircraft-manufacturing corporation MiG is considering the possibility of building a fifth-generation fighter. The new aircraft may be based on the MiG-35, and will be further enhanced by advanced avionics and weapons.
According to MiG managing director Sergei Korotkov, the corporation's experts are already working on a concept for the new fighter. "I know that this is one of the ideas, one of the directions that the design bureau is working on. I very much hope that soon we shall develop this area of work more seriously," he said.
Korotkov did not specify how much progress the corporation has made in its research and development, but said he considered the creation of a new combat aircraft "very likely," saying that "the most important thing is to have an order for it." Korotkov rejected the suggestion that this project may provoke a conflict between MiG and Sukhoi, which is working on its own version of a fifth-generation plane, the PAK FA (Prospective Airborne Complex of Frontline Aviation).
"These are two completely different aircraft, which will be performing different tasks," he said. The maximum take-off weight of the MiG-35 is 5 tons less than that of the PAK FA, so, Korotkov believes, it will be more effective in performing most of the proposed tasks. "We believe that the MiG-35 is a platform that may in future become the basis for a fifth-generation fighter," he said.
The MiG corporation is now waiting for a Russian Defense Ministry contract for the supply of MiG-35s. All the relevant documents have been submitted to the ministry, Korotkov said, adding that he hoped the contract – he did not specify for how many aircraft - will be signed "before the end of this year."
The MiG-35 may also be sold abroad: There have been media reports suggesting that Egypt is thinking of buying 24 MiG-35s fitted with Klimov RD-33MK engines. However, Korotkov refused to comment on these rumors. In April, the MiG corporation won a contract from the Russian Defense Ministry for the supply of 16 additional MiG-29SMT fighters for the needs of the Russian Air Force.
First published in Russian in VPK-news.
All rights reserved by Rossiyskaya Gazeta.