Rosneft to get $1.5-billion advance payment from BP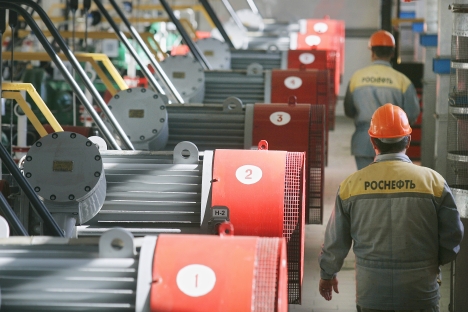 Read more about Rosneft-BP deals. Source: ITAR-TASS
BP Oil International Limited is to acquire up to 12 million tons of oil and petroleum products from Rosneft in the next five years after signing a set of agreements with the Russian oil giant. Contractual deliveries could begin this month.
According to the long-term supply agreement, Rosneft will get at least $1.5 billion in advance payments alone. A Rosneft spokesman told RBC that the advance payment was worth around $2 billion on the day of signing, but that amount will increase in the future because several more banks have expressed interest in helping organize financing.
"The validity period of the agreements conforms to OJSC Rosneft's interests on the signing of long-term deals with large clients, and it also allows it to efficiently perform long-term supply planning," the Russian company said in a statement.
Rosneft President Igor Sechin noted that the deal with BP opens up new opportunities for both companies. BP is getting stable supplies and guaranteed petroleum product quality, while Rosneft is getting high sales yield and additional financial resources.
Eight of the leading international banks helped organize the advance payment, Rosneft told RBC, meaning that the oil companies managed to convince financial institutions that it would be beneficial for them to cooperate. After Sechin was placed on the U.S. sanctions list, it was revealed that major British banks Lloyds Bank and HSBC Holdings had pulled out of the deal to lend money to BP for oil and petroleum products from Rosneft.
Sources in banking circles polled by Reuters said at the time that despite these two banks' decision to withdraw, the BP-Rosneft deal would go forward, although it would be less beneficial for Rosneft. It was originally thought that the Russian oil giant would get a $4-billion advance payment for its oil, but at the end of April it was reported that the amount had been slashed to $2 billion.
Meanwhile, Rosneft's Press Officer Mikhail Leontiev referred to statements about possible problems as "arbitrary interference" with "no grounds at all." He stressed that the U.S. sanctions against Sechin will not translate into complications in securing loans.
First published in Russian in RBC Daily
All rights reserved by Rossiyskaya Gazeta.