iPhone users bring more profits for mobile phone operators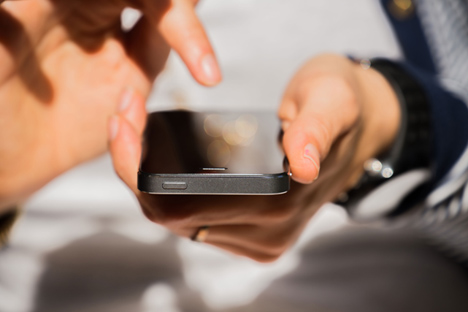 Megafon, Russia's second-largest mobile operator, has produced a study that calculates the growth of its clients' spending on mobile internet after having purchased a new smartphone. It turned out that users of the new iPhone are the operator's most valuable customers. They spend an average of 45 percent more compared to users of regular telephones
Source: Getty Images / Fotobank
Megafon, Russia's second-largest mobile operator, has produced a study that calculates the growth of its clients' spending on mobile internet after having purchased a new smartphone. It turned out that users of the new iPhone are the operator's most valuable customers. They spend an average of 45 percent more compared to users of regular telephones
The study determined that those who use smartphones with the Apple iOS operational system make more profits for the operators on the average than other smartphone users. Megafon studied various operating systems, analyzing how the volume of transmission of its callers' data changed in Moscow and its environs during the first three months after callers acquired a smartphone, distinguishing those who changed to a smartphone from a regular phone and those who changed from one smartphone to another.
According to the calculations, the average monthly caller bill (ARPU) after the change from a regular phone to a smartphone with iOS increased by 45 percent, to a Windows Phone by 34 percent and to an Android by an average of 23 percent. Moreover, callers whose first smartphone was an iPhone spent three times more on mobile internet (208 percent). Those whose first smartphone became a Windows Phone spent 160 percent more and first-time Android users spent 130 percent more.
In the opinion of Alexei Merkurov, representative of MTS, Russia's largest mobile operator, the ARPU of iPhone users is indeed greater than those of smartphones with other operational systems. However, the iPhone's share among smartphones in Russian operator networks is only about 10 percent, he added. The operators' main profits are generated by smartphones that cost less than $140, and they make up approximately 50 percent of the entire market, notes Merkurov.
Read the complete article in Russian at Vedomosti
All rights reserved by Rossiyskaya Gazeta.