Young Russian director gets his chance with Uma Thurman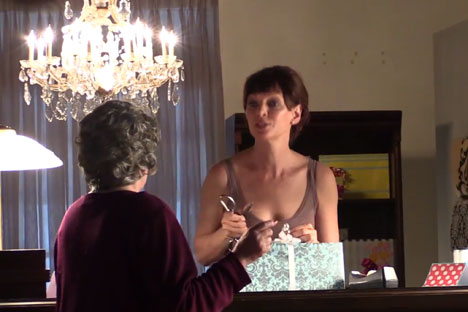 Uma Thurman starred in a short film by Russian director. Source: Press Photo
American actress Uma Thurman has starred in a short film by young Russian director Ivan Petukhov, who won the opportunity to work with the Hollywood star after winning a short film competition for young screenwriters.
A screenplay by Russian director Ivan Petukhov has won this year's Jameson First Shot, a prestigious competition for young screenwriters and directors organized by the company Trigger Street Productions and supported by actor Kevin Spacey. Petukhov's reward was the opportunity to work with U.S. actress Uma Thurman, who played the leading role in his film Podarok (The Gift), which premieres in Los Angeles on July 26.
Russian directors have won the Jameson First Shot contest before. Alexei Nuzhny won with his film Konvert (Envelope) in 2012, and Anton Lanshakov won with his film Chelovek-Ulybka (The Smile Man) in 2013.
The competition gives three filmmakers the chance to have their short film produced by an established production company and direct an A-list actor in the lead role, thereby giving them their 'first shot' in the film industry
Thurman, who is famous for her roles in Quentin Tarantino's Pulp Fiction and Kill Bill films, dyed her hair brown and wore a formal suit for the short film. The protagonist, Miss Anderson, works as a gift wrapper at a shopping mall and one day meets a magician named Mr. Grimm, who changes her life.
Petukhov thinks that the unique chance to work at a Hollywood level is open to all novice directors. "I can advise all potential participants to let go of their fear, doubt, and laziness, create a good story, and take advantage of this opportunity next year," the young Russian film director said.
Born in 1984, Petukhov is a journalist by education and works as a copywriter at an advertising agency. In parallel with his day job, he is trying his hand at screenwriting.
Based on material from The Hollywood Reporter, Lenta.ru, Interfax and Hello.
All rights reserved by Rossiyskaya Gazeta.