For Russian lawmakers, burgers are as dangerous as cigarettes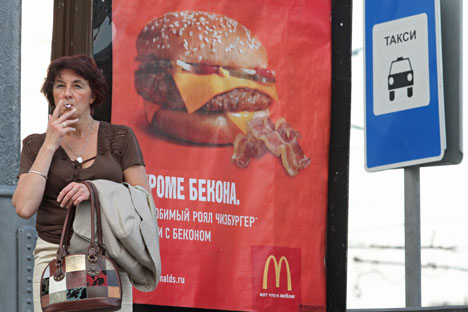 Duma deputies propose new labeling for fast food packaging.
Duma deputies propose new labeling for fast food packaging. Source: ITAR-TASS
Three Russian State Duma deputies have proposed that warning labels be placed on the packaging of fast food items similar to those placed on cigarette packages. Igor Lebedev, Yaroslav Nilov and Andrei Svintsov, who are all members of the right-wing Liberal-Democratic Party of Russia, are preparing amendments to the laws "On Advertising" and "On the Protection of Consumer Rights," issued a statement explaining their decision.
"Excessive use of such products threatens the development of obesity, causes damage to internal organs, diseases of the lungs, heart, kidneys, liver, etc.," the lawmakers wrote.
"In addition, on the packaging of every product, it would be useful to place frightening pictures, graphically illustrating a particular illness that can arise from the abuse of fast food."
The three deputies had previously proposed a number of draft laws aimed at fighting the additive sodium glutamate, which is included in nearly all fast food products.
Not surprisingly, fast food chains have voiced their opposition to the initiative. "We are categorically against this," said Ksenia Denderya, representative of the Development Department of the Burger Club, adding that equating fast food to tobacco and alcohol is excessive.
The proposal is only the latest attack on fast food by Russian government authorities. Russia's consumer protection agency Rospotrebnadzor is investigating the quality of McDonald's products and the country's phytosanitary watchdog Rosselkhoznadzor has begun quality checks on ingredients delivered to McDonald's.
Lawmakers have also requested that Rospotrebnadzor carry out unscheduled inspections of quality and food safety in KFC and Burger King restaurants in Russia.
All rights reserved by Rossiyskaya Gazeta.