New Moscow illusion museum allows visitors to wrestle with Putin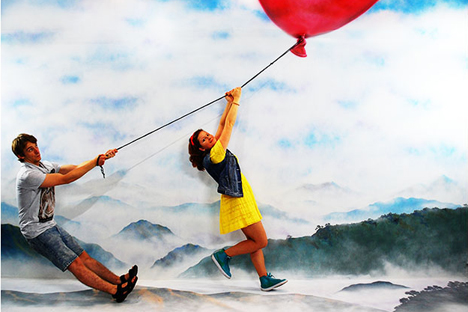 Source: Museum of Optical Illusions
Moscow has gained an unusual new museum – the Museum of Optical Illusions. Taking photos here is not only permitted but actually required because the illusions created by the exhibitions only appear in photographs.
"There is no other museum of this sort in Russia. We now have more than one hundred drawings," says Yanat Titova, the curator at the Museum of Optical Illusions. Titova is herself an artist and she invited her colleagues, artists from different corners of Russia, to create the exhibitions.
A tour of the museum is full of surprises: One comes across a giant boot, then a figure of the dead Lenin. The exhibitions are decorations for photos: objects, small rooms, and images on the walls, floor, and ceiling.
The drawings are executed so that they seem three dimensional when looked at from a certain spot. Near each of the images in the museum is a marker on the floor to indicate where to take the photo in order to get the desired effect. The rest is up to visitors' fantasy and acting skills.
Here you can fly in a hot air balloon, play tennis with Maria Sharapova, take a selfie with former president Dmitry Medvedev on his iPhone, and receive a cash prize from Vladimir Putin. You can also do aikido with Putin on the mat, but the picture is set up so that you will always appear in the role of the defeated.
Visitors with tough nerves will like the tiny room that allows you to feel like a dwarf or a giant. The optical effect is created by the inclined plane of the floor and the special perspective of the pattern on it.
A separate hall, decorated in hammers and sickles and painted red, is dedicated to the USSR: Here visitors can be photographed as a weather forecaster and admire giant children's toys that will be recognized by all who remember the Soviet period.
Museum address:4 Mal. Nikolopeskovsky Pereulok, Metro Arbatskaya
Opening hours: 11.30 – 23.30
Entrance: $10
Transfer of photos from apparatus to disk (done in the museum): $3
All rights reserved by Rossiyskaya Gazeta.