Swiss sanctions and Ukraine bring Russian stock market down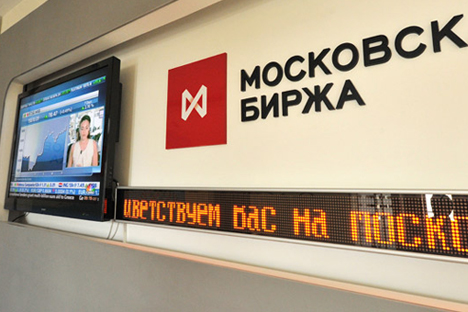 By the end of last week, the MICEX index dropped by 3.17 percent, following a 2-percent rise the previous week.
Source: Sergey Kuznetsov/RIA Novosti
In late August, reports of increased military activity in the east of Ukraine affected the value of Russian assets. In a single week, the Russian indices shed 3 percent.
In one day alone, August 28, the RTS and MICEX indices fell by 1.7-3.3 percent, while the U.S. dollar rate on the Moscow exchange approached a historic maximum, after Ukrainian President Poroshenko said there were Russian troops in the southeast of the country and Switzerland joined the sanctions against Russia.
"The drop was quite dramatic. Another unpleasant thing was that it gave a strongly negative technical signal, so that the fall partially continued on Friday too," says UFS IC chief analyst Ilya Balakirev. According to him, the situation is the least favorable on the currency exchange markets, where the ruble hit new historic minimums against the dollar and the euro.
By the end of the week, the panic selling of shares stopped, despite the geopolitical background remaining tense.
All rights reserved by Rossiyskaya Gazeta.