American MMA star Jeff Monson wants to become a Russian citizen
Fighter spends most of free time in Russia and says he feels Russian.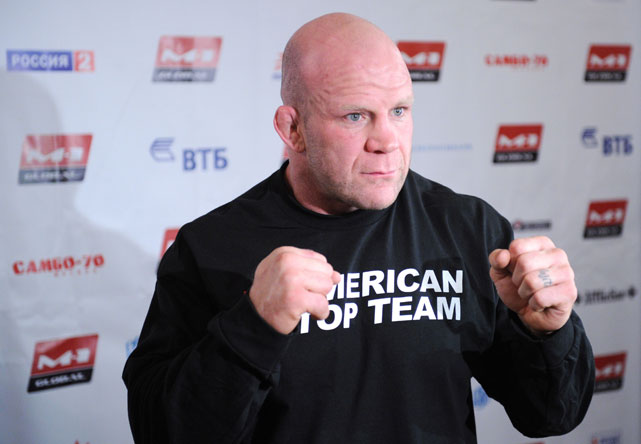 Jeff Monson. Source: RIA Novosti / Vladimir Astapkovich
One of America's best-known mixed martial artists, Jeff Monson, is planning on obtaining Russian citizenship. In an interview with Channel 9, the jiu-jitsu World Champion and one of the world's strongest MMA fighters said that he feels Russian and would like to officially become a Russian citizen.
Monson gained popularity in Russia after losing a fight against Fedor Emelianenko. Russia's then-Prime Minister Vladimir Putin, who attended the fight, later called the American and wished him a speedy recovery.
In March 2013, Monson, who is known as Snow Man in the MMA world, expressed sharp disdain for U.S. foreign policy and President Barack Obama during an interview with the Russian TV station Dozhd.
On October 10, 2013, during an evening that centered onthe last fight of Emelianenko senior's career, Monson entered the ring against Russian fighter Denis Komkin to the Soviet national anthem. Putin, who had moved from the prime minister's to the president's chair, rose from his seat to welcome the American fighter. "It was my idea. The audience seemed pleased. I'm forming good relations with Russia, and I would like to make them even better," Monson said about his decision to enter the ring to the Soviet melody.
In May 2014, Monson supported the Ribbon of St. George demonstration dedicated to the USSR's victory over Nazi Germany. He even has several tattoos illustrating his affinity for Russia: the words "svoboda" (freedom), "solidarnost" (solidarity), and "boyets" (fighter) written in Cyrillic. "I love the Russian language. It's all logical," the athlete said during a tournament.
At a tournament in Saransk (400 miles southeast of Moscow) on September 5, 2014, Monson entered the ring to the anthem of the breakaway, unrecognized Donetsk People's Republic – "Arise, Donbass!" – which provoked an outpouring of enthusiasm on Russian social networks. Monson also said he intends to create a charitable fund aimed at helping the fledgling republic.
Monson, who has a Russian girlfriend, spends the majority of his free time in Russia. In 2014 alone, he has already visited Penza, Orenburg, Samara, Saratov, Volgograd, Irkutsk, and Saransk.
All rights reserved by Rossiyskaya Gazeta.