Hermitage declared Europe's best museum for 2014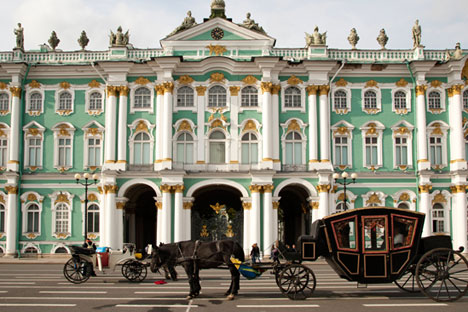 TripAdvisor ranking is based on analysis of traveler reviews
Hermitage. Source: Alamy/Legion Media
TripAdvisor, the world's largest travel website, has dubbed the State Hermitage Museum in St. Petersburg the best museum in Europe for 2014, beating out the Florence Academy of Fine Arts and the Musee d'Orsay in Paris, which came second and third respectively in the ranking of European museums. The Hermitage is ranked third on the world list of museums.
"All of the world's beauty gathered together in one place, allowing your mind to travel to any country or epoch," a TripAdvisor user wrote about the St. Petersburg museum. Today around 3 million works of art are on display in the Hermitage's 350 rooms, ranging from the Stone Age to modern times.
TripAdvisor's global rating put the Hermitage in third place, falling behind the Art Institute of Chicago and Mexico's National Museum of Anthropology, which took first and second, respectively. According to a statement by Rebecca Baldwin, public affairs director at the Art Institute of Chicago, the news of the Chicago-based museum's victory was unexpected. Last year the Hermitage topped the list.
Among the best Russian museums, the Hermitage ranked first, the Tretyakov State Gallery in Moscow second, and the Kremlin Armory third.
All rights reserved by Rossiyskaya Gazeta.