Photo model from Vladivostok becomes face of American Horror Story TV series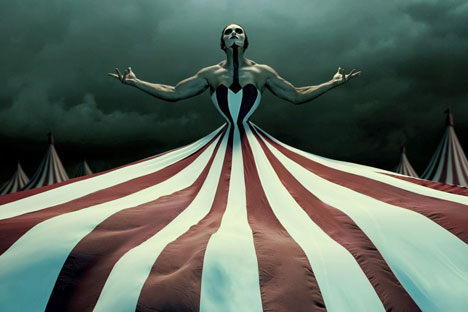 Anna Gerasimova appears as a circus freak
Anna Gerasimova as a circus freak. Source: Kinopoisk.ru
Vladivostok photo model Anna Gerasimova has become the commercial face of the American Horror Story TV series, which is starting its fourth season on Oct. 8. According to PrimaMedia, which has also posted her Facebook page, the season will be titled 'The Freak Show', and the girl from the Primorsky Territory is already lighting up the billboards and posters promoting the new season.
Gerasimova, who is a graduate of the Far Eastern Federal University, currently lives in Los Angeles, where she models and works in films. She has already appeared in films such as The Lost World and Letters, as well as in Ben Affleck's Argo.
American Horror Story is an American TV series in the horror-thriller genre. It premiered on October 5, 2011. The events of the new season will take place during the 1950s in a traveling freak circus.
First published in Russian in RIA PrimaMedia.
All rights reserved by Rossiyskaya Gazeta.