Second Russian raceway qualifies to host F1 races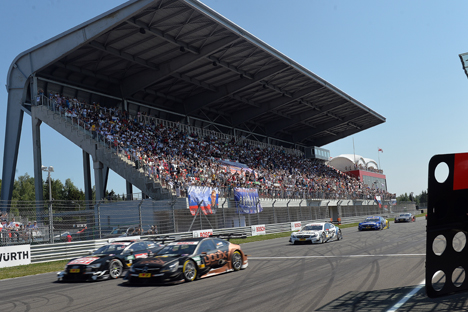 Russia's chances of having a second stage - after Sochi - of the Formula One World Championship are slim.
Source: Aleksey Kudenko / RIA Novosti
The International Automobile Federation (FIA) has given the Moscow Raceway, which is located 59 miles (95 kilometers) northwest of the Russian capital, a license of the highest category. According to the raceway's press office, the Grade 1 License permits the raceway to organize all kinds of races, including the F1 World Championship. The Moscow Raceway is the second Russian autodrome after Sochi to be awarded this license.
However, the Grade 1 License does not guarantee that the F1 races will actually be organized at the raceway. "In the foreseeable future Russia has very little chances of hosting another F1 race," Igor Yermilin, Advisor to the President of the Russian Automobile Federation, told the Itar-Tass news agency. "Russia's Grand Prix is held in Sochi. The promotional contract on this race will expire in 2020 and there is no reason in changing anything in it."
"Organizing an F1 race is connected to the obtaining of the promotional contract and other organizational nuances. The information that I have does not tell me that the Moscow Raceway is willing to finance the process of obtaining the license to host the F1 race," adds Yermilin. "However, if we do find third parties that are willing to invest in the project, then theoretically it will be possible to organize an F1 race."
All rights reserved by Rossiyskaya Gazeta.