Russian Formula One team Marussia declares bankruptcy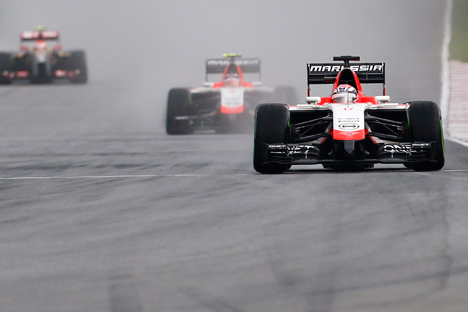 F1 team has been placed in administration and will not participate in the U.S. Grand Prix.
It has officially been announced that the Marussia Formula One team will withdraw from the upcoming U.S. Grand Prix in Austin.
The team has been declared bankrupt and placed in administration with Geoff Rowley and Geoff Carton-Kelly, who represent auditor FRP Advisory.
The main owner of Russia's Marussia F1 Team, Russian entrepreneur Andrei Cheglakov, announced the termination of the team's sponsorship support in a statement reported by the ITAR-TASS news agency.
"This is a sad note, but it is sounding against the backdrop of the great stage of the Sochi Grand Prix – the first to be held in my country," Cheglakov said, noting that he is pulling the plug on the team's financing
.
According to the Formula One Black Book 2014, Marussia's budget for this season was $69.2 million.
"A private investor has assumed all of the Marussia team's expenses for five years, since the moment it was created. He propelled the team up to the level of an average Formula 1 performer," commentator and race promoter Oxana Kosachenko said.
"The project was supposed to be long-term and involve attracting Russian investment, raising interest in Formula One as one of the most powerful marketing platforms. Unfortunately, in those five years, no company was found in the country that would have been able to appreciate all the benefits that Formula One has to offer," she said.
Marussia was formed from the Virgin team and made its debut in 2012. This season, Marussia is in ninth place in the Constructors' Championship standing, thanks to French driver Jules Bianchi's two points in Monaco. Bianchi crashed at the Japanese Grand Prix on Oct. 5 and is currently in critical but stable condition in hospital.
First published in Russian at Vedomosti.
All rights reserved by Rossiyskaya Gazeta.