Research proves fishing skills of Homo Sapiens who lived in Siberia 45,000 years ago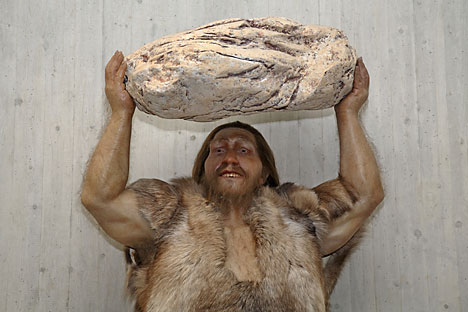 A Homo Sapiens who lived in West Siberia 45,000 years ago and whose thighbone was found on a bank of the Irtysh River in the Omsk region in 2008, had to cope with severe climate and lived on game and fish he caught, said Yaroslav Kuzmin, senior research fellow of the Geology and Mineralogy Institute of the Siberian branch of the Russian Academy of Sciences
Siberian Homo Sapiens was found of fishing, said scientists. Source: Photoshot / Vostok Photo
Tests carried out on the thighbone of a Homo Sapiens who lived in West Siberia 45,000 years ago, which was found on a bank of the Irtysh River in the Omsk Region in 2008, show that the man had to cope with a severe climate and lived on game and fish he caught, contradicting widely-held beliefs about the diet of Paleolithic people.
"Most probably, this man lived in a period of relative warming but the climate in Western Siberia was colder than it is now," said Yaroslav Kuzmin, senior research fellow of the Geology and Mineralogy Institute of the Siberian branch of the Russian Academy of Sciences, adding that Western Siberia was tundra forest at that time.
The bone belonged to a man aged 30 to 40, he said.
A carbon and nitrogen isotope analysis showed that the Ust-Ishim individual ate fish and waterfowl, Kuzmin noted.
"This is important because it is traditionally believed that people of the Paleolithic age did not fish but hunted mammoths, rhinos and horses," he said.
There had been no bones of such an age (45,000 years) found so far in the north (58 degrees North) before, and bones discovered in Romania and China were at least 7,000 years younger, Kuzmin said.
Only two full genomes of a Paleolithic man have been found before now, one in the Malta archaeological monument near the town of Usolye Sibirskoye in the Irkutsk Region (a child's bones, dating back approximately 24,000 years) and the Anzick child burial site in western Montana, in the United States.
Judging by his genome, the Ust-Ishim individual is an ancestor of Haplogroup K(xLT), which is widely represented in contemporary Asia and Europe, from the Papuans and the Chinese to the French.
"He is neither an Asian nor a European, this is a very old individual," said Kuzmin.
The presence of carriers of this genome in Siberia shows that the primary migration of early modern humans from Africa via the Levant to other Eurasian regions was not limited to the southern route, which went from Arabia along the coast of the Indian Ocean to Southeast Asia and farther on to Australia.
"We can state that ancient people had already come to the north 45,000 years ago from Lebanon, via Central Asia, Iran, modern Afghanistan and so on, or via the Caucasus, across the Russian Plain and the Urals," said Kuzmin.
All rights reserved by Rossiyskaya Gazeta.