Hermitage to celebrate 250 years with light show in St. Petersburg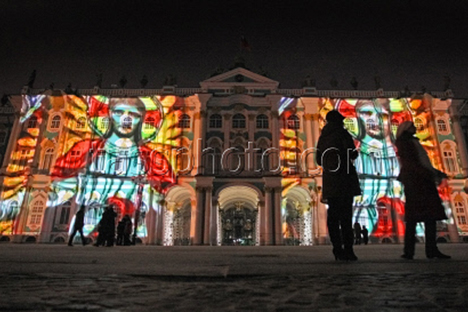 Palace Square event to feature 3D projections, classical music and poetry
Source: Alexander Drozdov/TASS
St. Petersburg's Palace Square will serve as the venue for the biggest public event in celebration of the Hermitage Museum's 250th anniversary on Dec. 6, with a musical light show called "The Ball of History" on the eve of the important date.
According to the event's organizers, the 3D film will be projected onto the façade of the General Staff Building. The video sequence will be accompanied by excerpts of musical compositions in a variety of styles and from different eras, including works by Tchaikovsky, Prokofiev, Glinka, Shostakovich, Rameau, Jenkins, Schubert, and Piazzolla.
"Viewers will be taken back to the most significant and most dramatic episodes of Russian history, in which the Hermitage was a direct participant – the reign of Catherine II, the fire during Nicholas I, the construction of the Hermitage buildings and the opening of the first public art museum in Russia, the night of the Provisional Government's arrest [the 1917 Revolution], and the Siege [of Leningrad]," a member of the project's press service explained.
The show will feature quotes from the memoirs of famous personalities, as well as from poetry by Akhmatova, Tsvetaeva, and Blok. The organizers have chosen a quote by the museum's former director Boris Piotrovsky as the epigraph of the evening: "If we don't save beauty, how can it save the world?"
The creative team for the DANCE OPEN festival, headed by production director Yekaterina Galanova, is developing the concept and staging for "The Ball of History," creating the audio content, and producing all the aspects of the project.
The 3D show's graphics are being created and its broadcast prepared by the creative team of French agency Cosmo AV, which helped organize the closing ceremony for the Sochi Olympics and Paralympics.
The musical light show on Palace Square will be free to the public, and sessions will be broadcast every half hour from 7:00 p.m. to 10:00 p.m. on Dec. 6. Entrance is free, and extra security measures will be in place.
Originally published in Russian at TASS
All rights reserved by Rossiyskaya Gazeta.