French president postpones shipping of first Mistral to Russia indefinitely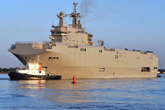 Situation in Ukraine not right for delivery of warship, says Élysée Palace
Mistral. AFP / East-News
French President Francois Hollande has decided to suspend delivery of the first of two Mistral-class warships to Russia due to the situation in Ukraine, according to a statement issued by the Élysée Palace and received by RIA Novosti on Tuesday.
"The President of the Republic considers that the situation in eastern Ukraine still does not permit the delivery of the first BPC (helicopter carrying and command vessel). He has therefore decided that it is appropriate to suspend, until further notice, examination of the request for the necessary authorization to export the first BCP to the Russian Federation," the communiqué reads.
Russian Deputy Defense Minister Yury Borisov told RIA Novosti that Moscow will not yet make a complaint against France over its decision to suspend delivery of the Mistral, adding that Russia expects the contract to be fulfilled.
"We are satisfied with everything. It's the French who aren't satisfied. We will wait," Borisov said.
According to an invitation sent to Russia, France was supposed to transfer the first Mistral BPC – the Vladivostok – to the Russian Navy on Nov. 14; however, the transfer never took place.
The United States is actively opposed to providing Russia with the Mistral. Paris, however, has said that on the one hand it is obligated to execute the contract with Russia, but on the other hand it is hinging the transfer on the progress made in settling the situation in Ukraine.
First published in Russian at RIA Novosti (link 1 and link 2).
All rights reserved by Rossiyskaya Gazeta.