Legendary Russian ice hockey coach Viktor Tikhonov dies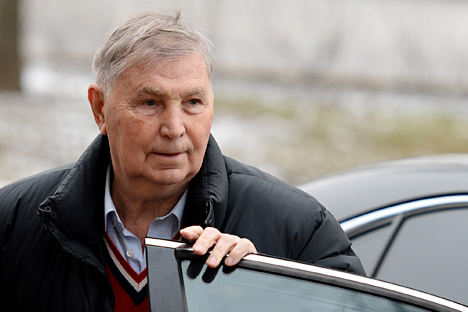 Under his leadership, the Russian national team won gold medals at three Olympic Games in a row.
Viktor Tikhonov. Source: Ramil Sitdikov / RIA Novosti
Legendary Russian ice hockey coach Viktor Tikhonov, who led the national team to three Olympic gold medals, died on Nov. 24, 2014. According to his widow Tatyana Tikhonova, he had recently spent some time in hospital and was discharged in early November.
Viktor Tikhonov was born in Moscow on Jun. 4, 1930. During the Second World War he began working as a mechanic at a bus garage at the age of 12. When the war was over, at the age of 15, the young Tikhonov joined the CSKA sports club.
At first he played football and hockey, later moving into ice hockey. During his career as a player, Tikhonov was a defenseman for the VVS MVO and Dinamo (Moscow) clubs. He played 296 matches in USSR championships, scoring 35 goals.
Tikhonov became head coach at the Dinamo Riga club in the late 1960s. By 1977, the team had come fourth in the USSR championship. He later moved to CSKA and also became the head coach of the national ice hockey team.
Between 1978 and 1992, the national team under Tikhonov's leadership became world champion eight times and won three Olympic titles: in 1984, 1988 and 1992.
During his time with CSKA, it remained Soviet champion till 1989 and won the European Champions Cup 14 times.
Tikhonov remained the head coach of the national team until 1994 and left the post after Russia, for the first time, failed to win a single medal at that year's Olympics.
In 1998 Viktor Tikhonov became a member of the Hall of Fame of the International Ice Hockey Federation. His name is also listed in the Olympic Museum in Lausanne.
First published in Russian in Gazeta.ru.
All rights reserved by Rossiyskaya Gazeta.