Global sales of YotaPhone2 begin today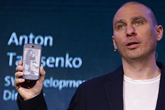 Starting December 3 the new Russian YotaPhone2 will be sold online in 19 countries. The official presentation for global markets will be held today in London.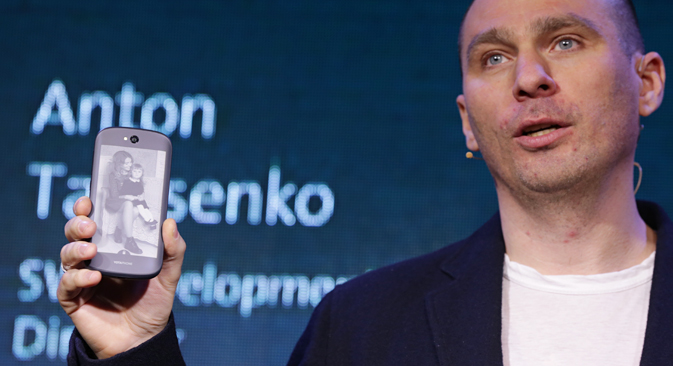 The YotaPhone2 presentation for Russian consumers was held in Moscow on December 2. Source: TASS
YotaPhone2's press office told RBTH that the presentation will go forward today in London at the Old Truman Brewery on Brick Lane at 18:00 local time. Following that, online sales will begin worldwide. Preliminary orders for the phone have already been coming in for the last few weeks. So far orders have come in from France, Italy, U.K., Germany, India, UAE and other countries.
In China sales will begin in the first quarter of 2015. The phone's producers believe that this market has a lot of potential, especially since Vladimir Putin gave a YotaPhone2 to China's president, Xi Jinping. Sales in the U.S. will also begin in 2015.
Meanwhile, the phone can be purchased on the company's official website. According to preliminary data, the price for the European market is 495 euros. However, the exact price will be announced today during the presentation.
"We sincerely hope that the YotaPhone2 will set a new trend on the smartphone market," said President of Yota Devices Vladislav Martynov. He stated that thanks to the gadget, the company hopes to create a new category of devices and is prepared to license the dual-screen smartphone's concept to other developers.
The first model of the YotaPhone smartphone was not met by high demand on the world market and European mass media made jeering comments, calling it "an ugly brick." However, in Martynov's words, the first YotaPhone was an experimental trial model, whereas the YotaPhone2 is a mass product.
The YotaPhone2 presentation for Russian consumers was held in Moscow on December 2, thus Russian users are already able to examine the phone. The distinguishing feature of the new gadget is its two screens. The main one is a standard AMOLET screen with a diagonal of five inches. The second screen has an E-Ink display with a diagonal of 4.7 inches and can be used to preserve the phone's battery life.
According to Martynov, YotaPhone can work up to five days in reading mode. While in energy-saving mode the YotaEnergy smartphone can work for two days. In this mode one can use the smartphone's basic functions: make calls, write and receive SMS messages and send and receive emails.
All rights reserved by Rossiyskaya Gazeta.