Statue from disputed Elgin Marbles goes on display at the State Hermitage Museum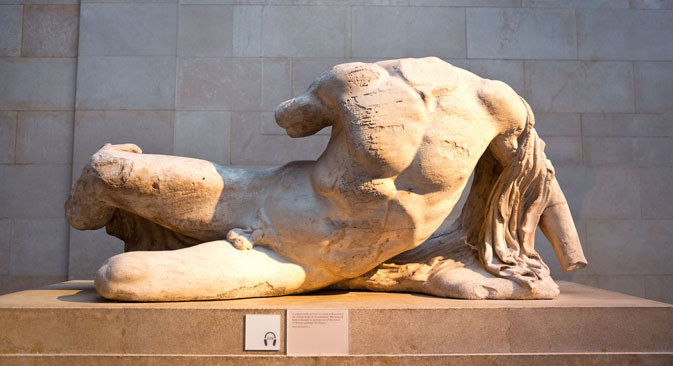 Headless statue of reclining river god Ilissos on loan from the British Museum.
Source: Alamy / Legion Media
For the first time ever the British Museum is lending one of the exhibits from its controversial collection of marble statues from the Parthenon to another country. The famous headless figure of river god Ilissos was unveiled at the Hermitage Dec. 6 where it will remain on public display until January 18.
"The British Museum is a museum of the world, for the world and nothing demonstrates this more than the loan of a Parthenon sculpture to the State Hermitage Museum in St Petersburg to celebrate its 250th anniversary," Neil MacGregor, director of the British museum wrote in a blog on the museum's website.
The statue, along with other marble sculptures, once adorned the Parthenon temple, the centrepiece of the Acropolis in Athens. The sculpture is part of the so-called Elgin Marbles, a collection of ancient Greek art British diplomat Lord Elgin took to Britain in the early 19th century, where they were subsequently acquired by the British Museum.
From the earliest days of its modern nationhood, Greece has been demanding the return of the Elgin Marbles, claiming they constitute an integral part of its national heritage. The Greeks refuse to recognise the legitimacy of an export permit for the ancient artefacts granted to Lord Elgin by the Ottoman rulers of the time; the British have consistently rebuffed demands for their return. The current dispute over the treasures dates back over 10 years, since a museum was opened at the Acropolis.
First published in Russian on RIA Novosti.
All rights reserved by Rossiyskaya Gazeta.